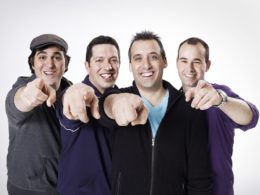 Have Fun, With Manhattan Music Lessons!
What kind of fool are you? This question is intended with all due respect, but we can't help asking it because tomorrow is the internationally celebrated annual holiday, April's Fool Day. Even if you are not a buffoon the other 364 days of the year, tomorrow is a good opportunity to act a bit "foolish," just for the fun of it.
You wouldn't be the first person on earth to pull a prank or, for that matter, fall victim to one. Even famous people do, so we thought it would be fun to look at some of the music world's most clever jokers, pranksters, and hoaxers.
Bring in the clowns
Now, you know that humor is a subjective concept, meaning that what some folks think is hilariously funny, others may find in bad taste. We are not endorsing any of these pranks; we are merely letting you know what some musicians had been up to on April Fool's (and other days) in years past. Are they funny? You be the judge:
The Beatles: We know that Paul McCartney is alive and well, and living right here in New York. But back in the 1960s, a rumor surfaced that Paul died in a car accident and was replaced by a double who looked and sounded just like the original (what are the chances of that?). This hoax was hatched by the student newspaper at Drake University. The Beatles themselves had a hand in propagating the rumor; "Paul is dead man/Miss him, miss him, miss him" can be heard when playing "I'm So Tired" backwards, among other mumblings and backwards clues.
In 1969, reports emerged about the imminent release of a new album compiling a "super-session" with Bob Dylan, Mick Jagger, John Lennon, and Paul McCartney. Entitled The Masked Marauders, the album supposedly couldn't feature the names of the performers because of contractual clauses, but the star-studded lineup was revealed in the October 18, 1969 issue of Rolling Stone. The album turned out to be a prank dreamed up by the then- Rolling Stone editor Greil Marcus.
Like him or not, but Howard Stern can pull a mean prank. On his radio show, he aired an "unedited version" of Beyoncé "If I Were a Boy," which he claimed was leaked from her performance on The Today Show in November 2008. He said this was what Beyoncé sounded like "in the raw." Luckily, the doctored tape was quickly discredited and did not have any negative impact on Beyoncé's career.
These are just three examples, but there are, of course, many more!
It's no joke
At Hey Joe Guitar, we enjoy occasional silliness but when it comes to music education, we are very serious. We know that giving music lessons to people of all ages and levels of proficiency is no laughing matter. That's why we make sure that a teacher who comes to your Manhattan, Brooklyn, or Riverdale home or office, is a master at his or her art – whether it's the guitar, violin, or any other instrument.
Photo by unknown, available under Creative Commons Licence.