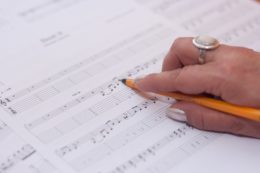 Let New York Music School Inspire You!
When you listen to your favorite songs, do you ever wonder how they came to life? In other words, what person or event had inspired this particular piece of music? That's a very pertinent question, because nothing in music (or art in general) happens haphazardly. Whether you call it a "muse," a "spark," or anything else, there is always that special moment or person who gives the artist the idea, force, and energy to create something new.
Just as an example, one of Ludwig von Beethoven's best-known compositions, "Für Elise ," was inspired by a woman believed to be Austrian singer and performer Therese Malfatti. (Music historians believe that the piece was originally called "Für Therese," but the name was, over the years, mistranslated to "Elise.") What about modern-day music? Let's have a look at who was behind some of the most popular songs of our time.
"You are my inspiration…"
Obviously, we can't cover ALL the songs here, but here is the "beef" on some of them: It has been long believed that the inspiration for Neil Diamond's 1969 hit single "Sweet Caroline " was the daughter of US president John F Kennedy. However, in 2014 Diamond revealed that his real muse was his then-wife Marcia Murphey, but he needed a three-syllable name for the chorus and Marcia didn't fit the bill. That's how "Sweet Caroline" came to be! Billy Joel's romance with the supermodel Christie Brinkley inspired him to write "Uptown Girl " in 1983. In real life, they were married for nine years until 1994 and had a daughter, Alexa Ray. What about Elton John's "Candle In The Wind?" He wrote the original version in 1973 as a tribute to Marilyn Monroe. Fourteen years later he asked his writing partner, Bernie Taupin, to rework the lyrics to pay tribute to Princess Diana; he performed the new version at her funeral on September 6, 1997. And we can't omit to mention one of the most curious "musical mysteries" of the past 40 years: who inspired Carly Simon's 1972 hit, "You're So Vain ?" Actor Warren Beatty had long been rumored the subject of this song. Last year, Simon admitted that the song's second verse is about Beatty, but hasn't revealed who the "muses" were for the other parts of the song. So at least some of the mystery still lives on!
Let us inspire you!
One thing that is certainly NOT shrouded in mystery is this: whoever (or whatever) inspires you, your child, or another member of your family to start music lessons, we are happy to help. Whatever instrument you choose to play, we will dispatch a well-trained and experienced teacher to your Manhattan, Brooklyn, or Riverdale home or office. This we can promise: we will always try to inspire you to move forward on your musical journey!
Photo by unknown, available under Creative Commons License