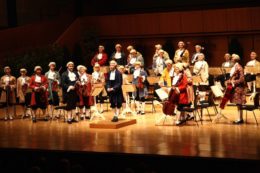 New York Music Teachers Will Never Embarrass You
We tend to think of classical composers and their orchestras as serious and dignified. There is no doubt that many of them were, or at least that's how they went down in history. But that wasn't always the case. Weird and wacky things happen to all humans, no matter how brilliant, talented, or famous!
In the centuries past, there was no CNN or twitter, no one recorded embarrassing moments with a cell phone and posted the footage on Facebook, and news didn't go global in the matter of seconds. The very notion of "celebrity gossip" was not as developed back then, and scandals were discussed in whispers rather than shouted from the rooftops. But all this doesn't mean awkward and weird incidents didn't happen back then – even in classical music. Let's look at some of them.
Cringeworthy moments
Let's start with the Baroque composer Jean-Baptiste Lully. Actually, his story falls under the category of tragicomedy – it started out funny but had an unhappy end. He had a habit of whacking the floor with a long wooden stick to keep the beat. Once, during the performance of his "Te Deum " to celebrate the recovery of King Louis XIV's from surgery, he hit his foot with the stick. He contracted gangrene from the wound but refused to have his leg amputated so he could still dance. Unfortunately, he didn't dance for very long – the gangrene spread and killed him. A century later, Ludwig van Beethoven had his own mishap while in Vienna. As he was becoming more absorbed in his music, he started to care less about his grooming and appearance. One day, while taking a walk, the disheveled composer was mistaken for a bum and arrested for loitering. Fortunately, he was soon released and lived long enough to compose his final, and possibly most famous, Ninth Symphony . And then there was Johannes Brahms. He was known for the unusual shape of his pants, often cutting them so they would reach his ankles exactly. Once, before conducting a performance of his own violin concerto , he forgot to attach his suspenders. By the end of the final movement, the pants descended way below his hips. Not exactly an AC Hammer moment, but embarrassing nevertheless!
Pure and simple
The above anecdotes go to prove that nobody is perfect – in fact, there are a lot of examples showing that geniuses are often a bit wacky. But, as you can see, a bit of eccentricity had not stopped these famous composers (with the exception of Lully, perhaps) from continuing their work. And maybe, just maybe, this "crazy streak" made the artists even more creative and productive. Now, we certainly don't want you to associate the word "crazy" with "music education." We hasten to assure you that there is nothing even slightly odd about our lessons. When one of our (totally normal) teachers comes to your Manhattan, Brooklyn, or Riverdale home or office, there will be no weird pants, no whacking of sticks, and (hopefully) no arrests for vagrancy! What you WILL get is a great, personalized music lesson – no drama!
Photo by unknown, available under Creative Commons License