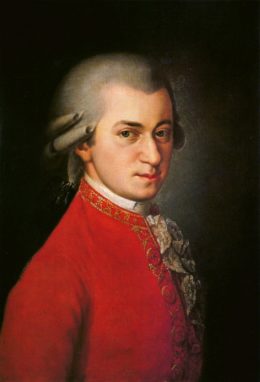 Brooklyn Piano School's Tutorial About The Great Composer
Two days from now, classical music lovers will celebrate a momentous event. January 27 will mark the 260th anniversary of the birth in 1756 of Wolfgang Mozart, one of the greatest composers of all time. Born in Salzburg, Austria, Mozart was a child prodigy, who started to write music at the age of four, and composed his first minuet a year later.
By the time he passed away in 1791, he had composed 600 works – about 17 pieces a year. They include numerous symphonies, piano and violin concertos, and operas, such as "The Magic Flute ," "The Marriage of Figaro," and "Don Giovanni." Let's have a look at some interesting facts about this musical genius.
An eventful life
He was born as Johann Chrysostom Wolfgang Amadeus but his baptism name was a tongue twister: Johannes Chrysostomus Wolfgangus Theophilus Mozart, which means "beloved by God." If they had had playgrounds in the mid-18th century, we are guessing he'd be teased a lot. As an adult, he shortened his name to Wolfgang Amadeus, and has been known as such for two and a half centuries.
History doesn't tell us whether young Mozart played with any conventional toys, but we do know that he started to play the harpsichord (the predecessor of the piano) at the age of three. He played the piano for the first time at 22. He also mastered the violin, as well as the organ and the clarinet.
We don't know whether Mozart had a foreboding of his untimely death, but in 1791 he worked feverishly on what would be his last work, "Requiem ". He passed away before he could complete it and it was finished by his pupil, Franz Süssmayr.
Mozart died at 35, which was young even in those days. In the centuries since, there has been a lot of speculation about the cause of his passing. The theories range from an undercooked pork chop and kidney failure, to murder by his rival Antonio Salieri.
All music genres
These are just a few facts about the great composer. We can't shed any more light on his life or death, but what we CAN do is send one of our amazing teachers to your Manhattan, Brooklyn, or Riverdale home or office for a lesson. Of course Mozart – and classical music in general – is not the only genre we teach. We also offer lessons in other styles of music, like jazz, rock, blues, and many others. So contact us and we'll get you set up!
Photo by unknown, available under Creative Commons License