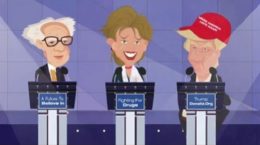 Elect To Play an Instrument, With New York Music Lessons
You'd have to be living in an alternate universe or under a rock somewhere not to know that we are in the midst of a pre-election campaign season, and a contentious one at that. One thing that unites the candidates on both sides of the political spectrum – those who are still in the running at the time of this writing – is music.
All three candidates have their own favorite songs that convey their political messages and inspire their supporters. Let's have a look at what they like.
Hillary Clinton
According to Rolling Stone magazine, Secretary Clinton, who grew up with classic rock, has particular affinity for female performers because they are "the best at what they do, whether that's fronting a raucous soul band, writing hypnotic dance anthems, unspooling intricate rap lyrics about female empowerment or crooning ballads about heartbreak and young love." At her campaign stops the same lineup of 13 songs is played: Latin pop (Jennifer Lopez's "Let's Get Loud," Marc Anthony's "Vivir Mi Vida"), pop (Katy Perry's "Roar," Kelly Clarkson's "Stronger," Sara Bareilles' "Brave"), modern rock (American Authors' "Best Day of My Life" and "Believer," Gym Class Heroes' "The Fighter").
Bernie Sanders
Did you know that in 1987, when Sanders was mayor of Burlington, VT, he recorded an album called "We Shall Overcome." It featured folk songs like "This Land Is Your Land" and "Where Have All the Flowers Gone?" These days, as a presidential candidate, Sanders has eclectic musical tastes, ranging from Beethoven's symphonies to Motown sounds, pop and disco music. And one of his campaign ads features a short excerpt from Simon and Garfunkel's "America."
Donald Trump
"The Donald" courts controversy wherever he goes – in politics AND music! Various artists, including Aerosmith, Adele, Elton John, Neil Young, the Rolling Stones, and Bruce Springsteen, among others, demanded that Trump stop playing their songs at campaign rallies. But even though Young snubbed him (objecting after his "Rockin' in the Free World " was played when Trump announced his candidacy), "the Donald" said he admires his music: "He's got something very special. I've listened to his music for years …when I went to the concert at Madison Square Garden, Neil got up and totally brought the house down."
Leaving politics aside
At Hey Joe Guitar, we stay out of all controversies – political and other. Our main goal (the only goal, really) is to bring music, in form of private lessons, into your Manhattan, Brooklyn, or Riverdale home or office. Our teachers are not going to discuss political candidates or their campaigns. Instead, they will focus their efforts on teaching you how to make beautiful music with an instrument of your choice!
Photo by unknown, available under Creative Commons Licence.