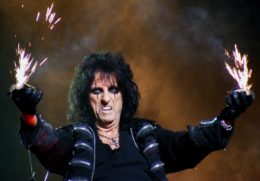 Whatever You Call Us, Our Manhattan Music School Is Still Hey Joe Guitar
Here's a head scratcher for this week: do you know what Vincent Damon Furnier, Robert Zimmerman, and Peter Gene Hernandez have in common? The answer: they are the real names of musicians we know as Alice Cooper, Bob Dylan, and Bruno Mars, respectively.
In fact, many musicians – and famous people in general – take on stage names, which sound nothing like the original monikers they got at birth. We will give you more examples in a minute, but first let's have a look at why so many famous people go that route.
What's in a name? You'll be surprised…
The reasons are many. For instance, the real name may be difficult to pronounce or remember. One such case is Cat Stevens, whose parents named him Stephen Demetre Georgiou. Or, the birth name might be quite a mouthful. That is probably why Declan Patrick Aloysius Macmanus thought it would be easier for everyone if he re-named himself Elvis Costello; ditto for Lady Gaga, whose given name is Stefani Joanne Angelina Germanotta. Sometimes, artists with ethnic sounding names prefer to be known by a more Anglicized aliases, which would help them blend better into the English language-dominated music industry. For example, would you ever guess that Henry John Deutschendorf, Jr. morphed into John Denver, and Pitbull was once known as Armando Christian Perez? And occasionally, artsy and creative people want names that are hip rather than ordinary. A long time ago, one British chap named Reginald Kenneth Dwight decided it would behoove his career to become Elton John, and Calvin Broadus morphed into Snoop Dogg. And by the way, Mozart was baptized as Johannes Chrysostomus Wolfgangus Theophilus, so it's no wonder he eventually shortened it to Wolfgang Amadeus! Here are some more examples:
Anthony Dominick Benedetto was the birth name of Tony Bennett.
Billy Idol was named William Michael Albert Broad at birth.
Gaynor Hopkins became Bonnie Tyler.
Faroukh Bulsara was no other than Freddy Mercury.
And here are some other examples of the "before and after" names.
We call it like it is!
What about musical instruments? Do they have aliases or are they still called by their real names? Aside from some abbreviations – such as "uke" for ukulele or the piano for the pianoforte, instruments pretty much still go by their given names. That makes it so much easier to call us and say: "I'd like to learn to play the cello, the guitar, or any other instrument – just name it. We'll send one of our excellent teachers straight to your Manhattan, Brooklyn, or Riverdale home or office. They'll introduce themselves to you by their real names!
Photo by unknown, available under Creative Commons Licence.