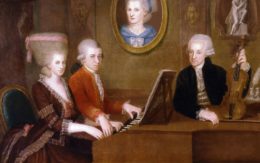 Does musical genius run in families? History tells us that, in at least some cases, it does. Let's look at some well known examples of musical dynasties, starting, chronologically, with Johann Sebastian Bach. Four of his surviving sons, Wilhelm Friedemann , Carl Philipp Emanuel , Johann Christoph Friedrich , and Johann Christian followed in their famous father's footsteps and became accomplished composers themselves.
Bach's daughter Catharina was also musically gifted but, as a female, could not compose professionally. She did, however, excel as a singer. Then there was the duo of Leopold Mozart and his prodigious son and pupil, Wolfgang Amadeus. Theirs was the case of the student outgrowing the master, though Leopold was a gifted violinist and composer in his own right and there is no doubt he passed on his talent to his son. And Leopold's other surviving child, daughter Maria Anna (Nannerl) became a talented clavierist. Moving on to the 19th century, two musical families stand out. First, there was the composer Felix Mendelsohn and his sister Fanny. But while Felix gained fame and recognition, Fanny did not get the encouragement or support to improve her craft, even though she was very talented . And of course we should not forget "The Father of the Waltz" Johann Strauss Sr. , and his son, Johann Strauss Jr. (aka "The King of the Waltz"). Johann Sr. had two other talented sons as well: Josef Strauss , who wrote over 300 dances and marches, as well as Eduard Strauss I, who joined the family's orchestra as a harpist and eventually as a conductor. And then there was Eduard's son (and Johann Sr.'s grandson), Johann Strauss III, who conducted the Strauss Orchestra and the first recordings of his family's works.
Is it in the genes or in the water?
In more recent times, there had been other examples of famous musical families – Judy Garland and Liza Minelli, Frank and Nancy Sinatra, Nat King and Natalie Cole, John and Julian Lennon, and others. By now you may be wondering whether musical talent is inherited. There is some evidence to suggest that creativity could, indeed, be passed on from one family member to another. But there is also something else: people who love and play music (or sing), instill and nurture the same passion in their children. In other words, they create and foster a music-friendly environment. But it doesn't really matter if affinity for music is inherited or learned. Either way, lessons will help you (or your child) discover and explore all the wonderful musical mysteries. So invite a teacher of ours into your Manhattan, Brooklyn, or Riverdale home or office and start spreading the love of music all around you!
Photo by unknown, available under Creative Commons Licence.