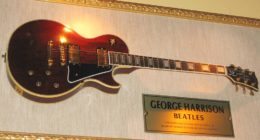 Let The Guitar Be Your BFF, With Brooklyn Music School
ion] A few years ago, researchers from the University of South Brittany found that women are attracted to men who carry guitars (leave it to the French to come up with a study like that!) You can read whatever you wish into these findings, but to us they indicate that playing an instrument – in this case, the guitar – is an appealing trait.
This made us think of all the musicians – too many to mention here – who not only excel at guitar playing, but also are emotionally attached to their instruments. It's no surprise, really, given the important role the guitar plays in their lives – it is an outlet for their creativity, ideas imagination, and feelings. In fact, some musicians are so intertwined with their guitars that they give them names, simply because their relationship with their instruments is so close and personal.
He loved Lucy
In 1968, Eric Clapton gifted George Harrison with a red Gibson Les Paul guitar the Beatle named "Lucy." He played the instrument for five years, including in the promotional video for the song "Revolution." But in 1973, Lucy suffered a terrible tragedy: stolen from Harrison's home, it was held hostage by a Mexican musician. After lengthy negotiations, the Beatle traded his Les Paul sunburst and a Fender Precision Bass for Lucy's safe return. He kept her close until his death in 2001. Lucy is not to be confused with "Lucille," the name B.B. King gave to his guitars. Throughout his long career that spanned more than half a century, the blues singer owned many Lucilles. And though it was not a one-of-a-kind instrument like Harrison's Lucy, each guitar was, nevertheless, King's faithful companion. Here are some other famous musicians and their beloved guitars: Eric Clapton's "Blackie" and "Brownie " Willie Nelson's "Trigger " Stevie Ray Vaughan's "First Wife " David Gilmour's "Black Strat " And many others.
Pulling on (heart) strings!
We are happy to have had this opportunity to showcase famous guitars, especially since April is the International Guitar Month. Of course, most of us don't own iconic guitars, but that shouldn't keep anyone from learning to play this string instrument. We have many excellent guitar teachers at our school and we can send one to your Manhattan, Brooklyn, or Riverdale home or office for a lesson. And even though your guitar is just a "regular" instrument, you can "baptize" it! Whether you name it Emma or Ralph, or give it any other moniker, you two can be BFFs!
Photo by unknown, available under Creative Commons Licence.