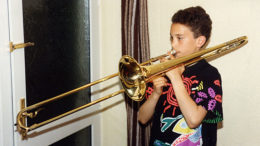 At Manhattan Music School, Practice Matters
We all know that music education offers a lot benefits. That's a fact. Another fact is that when it comes to music training, regularity is very important: weekly lessons and practice – even in small increments – will ensure steady improvement. That's because for a musician, progress is all about familiarity and repetition.
And yet, when it comes to NOT practicing, kids come up with most convoluted excuses. We compiled, for your enjoyment, a partial list, though it obviously doesn't cover all the clever fibs that are hatched in children's minds.
Seriously?
One of the most brilliant people in history, Albert Einstein, once said, "Every child is born a genius." He probably didn't intend it to mean that very often kids use their ingenuity to say the darndest things. These are real excuses that music teachers have had from their young students. Be ready to be amused! "I couldn't practice because: We moved to new a house and I couldn't find the piano. My dog gets sick whenever I play the clarinet. Some aliens from outer space abducted my guitar. My mom put the washing machine on top of the piano. I was kidnapped by terrorists and they only just let me go, so I didn't have time to play the cello. My house is being fumigated and I don't want to go in there and suffocate just to get my violin. I put the flute in the safe, but lost the combination. I got soap in my eyes and was blinded for the rest of the day. I dropped my flute in the toilet accidentally and it got flushed. I had radon poisoning. A big bird flew in the window, stole my violin, and flew away. My dad told me I didn't have to practice because I'd never be another Mozart. My little sister used my sheet music to line the canary's cage. As we said, this list is just a drop in the bucket of sneaky excuses. But really, you have to love the kids for their creativity!
No excuses – please!
Okay, let's get serious for a moment: despite the often-used saying, practice won't make your children perfect. But it will more than likely make them better musicians, even if they do not end up in Carnegie Hall! We recommend between 30 and 60 minutes of practice each week, which can be broken into short daily sessions. Even the busiest of kids or parents can spare 10 minutes a day to play their instrument! And our lessons are tailored to your and the children's schedule. We make it easy and convenient because we come right to your Manhattan, Brooklyn or Riverdale home or office, so your child doesn't have to waste valuable time commuting to meet the teacher. Our teachers make no silly excuses – and neither should your kids!