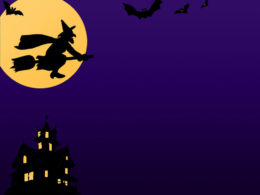 Fear not, Manhattan Guitar School Will Keep You Safe!
The day after tomorrow, New York will be, almost literally, a ghost town! That's because Halloween's traditional creepy and spooky creatures will take over the city – ghosts, of course, but also monsters, mummies, zombies, witches, goblins, black cats, and other scary apparitions that will go bump in the night. Once the kids are back from trick-or-treating and are getting their sugar rush from all the candy, you can have a Halloween celebration of your own.
It doesn't require costumes, a witch's brew, or howling sounds . All you need to create a Halloween-ish environment in your own home is some classical "mood" music!
On the edge of your seat…
Long before the custom of trick-or-treating appeared in the United States in the 1950s, several classical composers wrote some pretty scary music. We can't think of anything more appropriate for a dark Halloween night! For instance, in 1886, Russian composer Modest Mussorgsky wrote a series of compositions titled "Night on Bald Mountain." His frightening ghouls wreaking havoc on a mountain village in the middle of the night were depicted in Disney's 2009 movie "Fantasia" Watch, listen and shudder! Then there is no less scary piece called "Dreams of a Witches' Sabbath" the final movement of "Symphonie Fantastique" written by French composer Hector Berlioz in 1830. If you can stomach allusions to witches, sorcerers and monsters assembled at a funeral, this piece is for you! Okay, let's move on. By some accounts, Hungarian composer Franz Liszt was obsessed with all things macabre, as is evidenced in his ominous-sounding "Totentanz (Dance of the Dead)" . The piece was several years in the making and finally completed in the mid 1800s. Are you sufficiently spooked yet? We hope not, because there are two more pieces of music you absolutely must listen to on Halloween night: Russian composer Sergei Rachmaninov's 1908 work "The Isle of the Dead" and Camille Saint-Saëns sinister tune "Danse Macabre" which the French composer wrote in 1874. We hope all this music will not give you nightmares!
We are harmless!
No matter how frightening it is, Halloween only lasts one night. By the time you wake up on November 1, you will hopefully be fearless! Of course, most classical music is not scary at all; in fact, it is soothing and uplifting. Another thing you should never be afraid of are our teachers. That's because when they come to your Manhattan, Brooklyn, or Riverdale home or office, they will never use scare tactics!