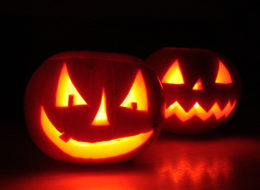 With our NYC music lessons, you'll be ready for tricks AND treats
We always talk about the benefits of music, but let's be honest –it can be scary too!
And with Halloween just around the corner, prepare to be frightened, because we will share with you some of the spookiest songs on our playlist. As a public service, we are dividing this list into two parts: one (a less scary one) for kids, and the other one, for adults.
So put on your costume and let's get the party rolling!
A sweet Halloween
Kids like dressing up and trick-or-treating. Make their Halloween a pleasant one (and only mildly scary) with these fun, childproof songs:
The little ones will have loads of fun with these tunes – just make sure they don't sing with their mouths full of candy!
Boo!!!
Okay, so kids are now tucked in bed (unless they are hyped up on the sugar rush and are wide awake), and now it's your turn to party.
Imagine that you are in a haunted house with creaky floorboards and masses of cobwebs hanging from ever nook and cranny. All of a sudden, you hear a ghostly / ghoulish shriek, and a black cat lands on your shoulder. The lights flicker off and on, and the cat morphs into an evil witch clad in black from the tip of her pointed hat to the hem of her dress. The witch points her gnarly hands at you, with sharp nails that have been uncut in several centuries and says: "If you don't play some good music this very minute, I will put a spell on you!"
So, you have no choice but to bring out your iPod and start playing. For this occasion, may we suggest these frightfully terrific pieces of music?
According to Billboard magazine, this is the most-downloaded Halloween-themed hit of all-time.
"Ghostbusters" – Ray Parker Jr.
This song topped the Hot 100 in 1984, the year when it was first released.
"Runnin' with the Devil" – Van Halen
This 1978 hard rock hit is a classic Halloween song
"A Nightmare on my Street" – D.J. Jazzy Jeff and the Fresh Prince
In 1988, before Will Smith became a mega star he is today, he recorded (at the height of his "Fresh Prince of Beverly Hills" days) this hip-hop tune, which ranked No. 15 on the Hot 100.
Magic in your home
Halloween comes but once a year, but our Manhattan music lessons take place all year long. Whatever type of music you (or your child) want to learn, our teachers will come (but not on a broomstick) to your Manhattan, Brooklyn, or Riverdale (Bronx) home or office for private lessons.
Our instructors are among the best in NYC, but don't be afraid that they'll put a spell on you. They WILL, however, teach you some wonderfully bewitching music!