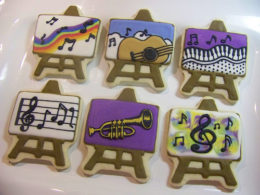 NYC Music Lessons Will Help You Achieve Your Goals
What does it take to be successful, whether in your professional, academic, or personal life?
Obviously, there are many factors involved – from hard work, discipline, and perseverance to a goal-oriented and positive attitude, in addition to strong "people" skills.
But would it surprise you to learn that another important aspect of success is – music!

You may not be inclined to take our (admittedly biased) opinion seriously, since we are obviously big music fans. But if you don't believe us, maybe this recent New York Times piece will convince you.
Essential components of success
The connection between music training and academic achievement has been borne out by many studies. There is a body of evidence showing that kids who take music lessons get better grades in science, math, history, and foreign languages than those who had not been involved in music education; they also have better social skills and stronger self-confidence.
But as the above-mentioned article points out, the benefits of music extend to adults in the workplace as well – in whatever professional field they happen to be: "Many high achievers said music opened up the pathways to creative thinking. And their experiences suggest that music training sharpens other qualities: Collaboration. The ability to listen. The power to focus on the present and the future simultaneously." The article goes on to say that music "functions as a 'hidden language,' one that enhances the ability to connect disparate or even contradictory ideas."
Sounds of success
The article mentions some people outside of the music industry whose music training has helped propel them to the top of their fields: former Secretary of State under President George Bush Condoleezza Rice, who trained to be a concert pianist; former chairman of the Federal Reserve Alan Greenspan, was a professional clarinet and saxophone player, and Paul Allen, the co-founder of Microsoft, is a guitar aficionado.
But these people are just the tip of an iceberg – there are many more examples of successful people who have been involved in music. Here are a few current and past musically inclined high-achievers:
Former President Bill Clinton plays a saxophone
Physicist Albert Einstein played the piano and violin
Astronaut Neil Armstrong played the baritone horn (on earth; not in space)
British writer Charles Dickens played the accordion

Telephone inventor Thomas Edison was a pianist
And here is a more extensive list of movers, shakers, and their favorite musical instruments
Would these folks be just as successful without music training? We can't say for sure, but we tend to think that music has been a significant contributing factor in their booming careers.
We've got what it takes!
At Manhattan music lessons, we believe in achievement. No matter how old you are and what goals you have set for yourself, music can help get you there. It provides a great boost for your (or your child's) creativity, and ability to focus and perform – all the essential elements of success.
Our NYC teachers will come to your Manhattan, Brooklyn, or Riverdale (Bronx) home or office and give you lessons on an instrument of your choice
Whether you aspire to be successful or already are, with our music lessons, it won't be lonely at the top!
Photo Credit: Polka-dot Zebra