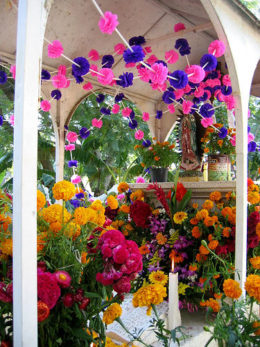 At NYC music school Hey Joe Guitar, we love Mexican vibes
In Mexico and some other countries, this holiday (El Día de los Muertos in Spanish), focuses on the remembrance of and prayer for departed family members, so it is certainly more touching and solemn in nature than the spooky events associated with Halloween.
Yet, as many other celebrations that take place south of the border, the Day of the Dead has a cheery vibe to it. We will tell you about it in a moment, but for now, let's have a quick look at the history behind this holiday.
A cultural legacy
Mexican traditions connected with this holiday include building of private altars honoring the deceased, and visiting, as well as decorating, their graves.

It is believed that the modern-day El Día de los Muertos celebrations have their origin in centuries-old indigenous observances and traditions, including an ancient festival dedicated to the Aztec goddess with a tongue twisting name of Mictecacihuatl, who was the ruling queen of the underworld and afterlife.
With time, as Catholicism became the dominant religion in Latin America and Europe, the native Mexican customs associated with El Día de los Muertos spilled over to the commemoration of All Saints' Day on November 1.
In the United States, especially in areas with a high concentration of Mexicans, the Day of the Dead is also celebrated. In NYC, Mano a Mano, an organization dedicated to the promotion of Mexican culture, is planning a variety of activities for this week's celebrations, which everyone, Mexican or not, is welcome to attend And there are festivities for children as well.
El Día de los Muertos is such as big part of Mexico's native traditions that in 2008 this festival was recognized by UNESCO as part of its Intangible Cultural Heritage of Humanity, which honors "traditions or living expressions passed down through generations in the form of oral traditions, performing arts, social practices, rituals, festive events, or knowledge and practices concerning nature and the universe."
Grateful dead
As we mentioned before, even though it commemorates the decreased, there is nothing morbid about El Día de los Muertos. Black is not the dominant color in this celebration – in fact, the altars and graves are decorated in vibrant colors, including elaborate floral arrangements and even the departed person's favorite food.
And what about music? Forget gloomy tunes usually associated with death and funerals – Mexico's Day of the Dead melodies are upbeat, with distinct drum, chime and guitar sounds, like these two folk songs:
"La Calaca Flaca" by Oscar Chavez
"Viene La Muerte" by Amparo Ochoa
Go "live" with Manhattan music school
We at Hey Joe Guitar love all folklore-rich festivities, especially the ones that feature great music. Not only do these events expose us to melodies we may not normally get to hear, but they also show how important music is in all kinds of celebrations.
Hopefully, by hearing these sounds you will be inspired to make beautiful music of your own. Starting is easy – just contact us and we will send one of our excellent NYC teachers to your Manhattan, Brooklyn or Riverdale home or office.
It's going to be muy caliente!