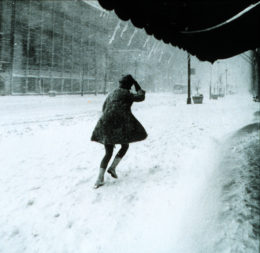 New York Guitar School Won't Let You Be Under the Weather!
Maybe you think that all the events happening in December are related to the holiday season. It certainly seems this way, doesn't it – the decorations, lights, and that special ambience are reminders (as though we could forget) that Christmas and Hanukkah are here.

It is understandable that with all this holiday spirit we forget another important event that occurs three days from now. December 18 marks the winter solstice, which is not only the first official day of winter, but also the shortest day of the year in the Northern Hemisphere.
Of course, more often than not the winter season in our city starts well before the official date as New Yorkers bundle up to brave the elements. Good thing that we are such a sturdy lot!
Warm up with music
You might be wondering what you can do to bring a bit of warmth into your life. There is a lot you can do – for instance, crank up the heat, put on a thick sweater and fuzzy bunny slippers, wrap yourself in a soft blanket, and sip some steaming hot chocolate.
You can also fantasize that you are in Australia right now, enjoying the Down Under summer, and strolling along the sun-drenched Bondi beach.
And this is where music can help!
Let's be clear: we are not saying that music has any impact on climate control, but it can make the inclement weather more bearable. Your natural inclination right now might be to listen to songs from the movie "Frozen," but you should put them on the back burner until summer, at which point you will probably crave a blast of arctic air!
For now, let's focus on heartwarming, not bone-chilling songs. Here are some of our favorites:
"Here Comes the Sun" – The Beatles
"Kokomo" – The Beach Boys
"Summer Breeze" – Seals and Croft
"Island in the Sun" – Weezer
"Hot Hot Hot" – Arrow
"Lazy, Hazy Days of Summer" – Nat King Cole
"Summer" from the "Four Seasons" – Antonio Vivaldi
These boots were made for walking
Bad weather is no reason to discontinue (or not to begin) your music lessons. We can promise you that our "all-weather" (and not just "fair-weather") teachers will show up at your Manhattan, Brooklyn or Riverdale home – an instrument in (gloved) hands, heavy boots or galoshes on their feet, and a tune in their hearts.
Whether you want to have guitar lessons or learn another instrument, just contact us and we'll send one of our weatherproof teachers to you right away!
Photo by unknown, available under Creative Commons License