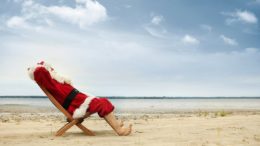 Feel Toasty Warm This Christmas, at Manhattan Music School
Here in New York, when we think of Christmas, we visualize snow – and lots of it. In fact, all the traditional depictions of the holiday season in the city almost invariably portray powdery and glistening snow blanketing the sidewalks, buildings, and red-cheeked children. (Interestingly, the tableau never shows blizzards, sleet or slush).

On the East Coast and in much of the country, that's how we want our Christmas to be – a white and magical winter wonderland. But have you given any thought to other places in the world, where Christmas is celebrated in a hot and sometimes even sweltering weather? Can you imagine Santa wearing shorts and sunglasses? And what about this: instead of roasting chestnuts on an open fire and drinking hot cocoa, people cozy up under a palm tree and sip a margarita ?
We personally know some people in Florida, who not only have no idea what real snow looks and feels like, but also can't imagine shivering on Christmas Day in thick coats, hats, and gloves.
"Hot" music
Obviously, in Florida Christmas is celebrated pretty much the same way as it is here up north – minus the cold – but in other parts of the world, the ambience is much more tropical.
In Hawaii, for example, Christmas is "green and bright" . In the Southern Hemisphere, where December 25 is smack in the middle of summer, barbeque, ice cream and cool drinks are more common than our traditional Christmas fare. And in Polynesia, families often hang out around a lagoon on Christmas Day, roasting a pig for dinner.
What about the Christmas music popular in those tropical climes? It has a totally different beat and vibe than the sounds we are accustomed to. Just listen to some of them:
"Reggae Christmas" – Bob Marley
"Calypso Christmas" – Mark Knauss
"Drink a Rum" – The Merrymen
"Polynesian Christmas" – Tupulaga
Warm up to our teachers!
As mentioned, New York is not exactly a tropical paradise during Christmas, so we are pretty sure that when our music teachers go to give lessons in the dead of winter, they won't be wearing a Hawaiian hula costume. Their instruments – guitars, saxophones, and such – will also be well protected from the elements in sturdy cases.
However, you can be sure that when a teacher of ours shows up at your Manhattan, Brooklyn, or Riverdale home or office, he or she will radiate warmth and good cheer even in the coldest weather!
Photo by unknown, available under Creative Commons License