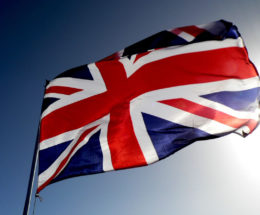 At Manhattan Music School, We Love British Exports
Three weeks ago, David Bowie's fans were shocked and saddened by their idol's death. From his first hit, the 1969 "Space Oddity ", to his last album, "Blackstar " – released two days before his passing – the pop icon influenced and changed the face of music. This made us think of all the other British-born musicians who found fame and fortune on this side of the Big Pond. Bowie, of course was one of them: born in London, he moved to the United States in the 1970s and had lived right here in New York for many years.
In fact, he once said, "I realized the other day that I've lived in New York longer than I've lived anywhere else. It's amazing: I am a New Yorker."
The British are coming!
Lest you start running for the hills let us assure you that this particular "invasion" has been of a strictly artistic – and therefore peaceful – nature. A good place to start is with The Beatles. The four lads from Liverpool made their first appearance on our shores in February 1964, arriving in New York to hordes of screaming teenage fans waiting for them at the airport . Eventually, all four band members settled in the United States, with two of them in New York: the late John Lennon in the famous Dakota Building and Paul McCartney on Fifth Avenue. Four months after The Beatles conquered America, another British band "rolled" into our country – The Rolling Stones. And even though the group started out as an English rock band, over the years it has become an integral part of the American music scene.
Jolly good lads
There are also many individual UK-bred musicians who made it big in our country. Sting, for instance. He was born in England but, having found fame in America (first as The Police frontman and later solo), he settled in New York and now lives in Central Park West. We can only assume that his 1987 hit, "Englishman in New York " was very personal and perhaps even autobiographical. Let's move to another quintessential English chap who became a big hit in the United States – Rod Stewart. His signature raspy voice won him scores of U.S. fans, prompting him to move here in 1975. A year later, he reached the top of the U.S. charts with his hit, "Tonight's the Night ." And we can't talk about British-born musicians without mentioning the great Elton John, who "conquered" America in 1970. He opened his first U.S. concert, in West Hollywood, with his breakthrough single, "Your Song ," becoming more famous (and flamboyant!) soon after. Of course, there have been many more talented British exports – including Davy Jones of "The Monkees," Eric Clapton, Phil Collins, Freddy Mercury, Andy Gibb, and many others, too numerous to mention here. We salute them all, along with the unforgettable David Bowie.
From far and near
We can't tell you that ALL of our awesome teachers come from Great Britain, but some of them do! In fact, Hey Joe Guitar is as much of a "melting pot" as our great city – our teachers come from many countries, including, of course, the United States. But no matter where they were born, they have two things in common: one, they are all New Yorkers and two, they are all graduates of top music schools and have lots of experience teaching a variety of instruments to students of all ages and levels of proficiency. This way you can be sure that when one of our teachers comes to your Manhattan, Brooklyn, or Riverdale home or office, you'll get only the best "exports."
Photo by unknown, available under Creative Commons License