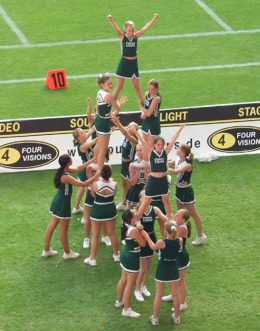 When It Comes to Music, Brooklyn Guitar Lessons Lead the Field
This coming Sunday will be an important day for football fans – the SUPER BOWL! It is not just America's largest sports event, but also a cultural phenomenon of sorts. The hype and frenzy start even before the Super Bowl Sunday and grow in intensity in the weeks leading up to the big game. In fact, people get so excited and caught up in the game, they sometimes tend to forget that, no matter who wins and who loses, the world will go on unperturbed by this event.
You may be wondering by now why we are bringing up this topic in the music blog. The reason is simple: NFL football and music go hand in hand, even if, on the surface, they don't strike you as a natural match. But just think of all the Super Bowl halftime shows. They are huge! Performers like Tony Bennett, Patti LaBelle, Stevie Wonder, Phil Collins, and many other famous singers had starred in the musical productions over the years. In that way, the Super Bowl is not merely a sports event, but also a musical extravaganza!
Musical interlude
The first Super Bowl game took place on January 15, 1967, so it is just one year short of its 50th anniversary. In the first decades, halftime entertainment featured mostly college marching bands, but that trend changed in the 1990s. In 1991, New Kids of the Block headlined the show , ushering in the era of big-name acts. Michael Jackson, Gloria Estefan, Diana Ross, Smokey Robinson, and the Rolling Stones were among many famous halftime performers. The first Super Bowl of the 21st century featured a terrific show by Tina Turner . Other A-listers followed throughout the decade: U2 in 2002 , Paul McCartney in 2005, and Bruce Springsteen in 2009. These were just some of the many featured performers in the past years. What about this Sunday? You can look forward to Coldplay's performance. Why is it that so many well-known musicians are eager to play at the Super Bowl? Our guess is that it is not only the exposure to tens of millions of TV viewers, but also the frenzied excitement of the spectators, the kind of fervor that is fuelled by good football and good music!
A totally different ball game
What if you are not a football fan, but do like music? That is totally fine. We certainly prefer a student like you, than someone who is a total opposite – loves football but hates music! Our teachers can't promise you fancy footwork, but when they give you a lesson in your Manhattan, Brooklyn or Riverdale home or office, they will be right on the ball. With the teacher's expert guidance, you will not know the agony of defeat – just the thrill of victory!
Photo by unknown, available under Creative Commons License