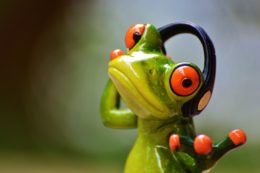 Manhattan Music Lessons Make A Lot Of Horse Sense
We recently came across some very interesting footage (which we are sharing below) that shows how various animals react to music. We found it heartwarming to see that the capacity to respond to music is not a uniquely human phenomenon, but that animals have it too. In fact, there is a whole field of study called "zoomusicology," which, as its name suggests, focuses on the so-called "animal music" – a fascinating subject in and of itself.
Scientists tell us that even though animals like different sounds than humans, their auditory range and ability to understand and pick up on human emotion is similar. The main difference lies in how animals interpret these sounds. We do know, for instance, that our four-legged friends appear to be more relaxed when listening to classical music and more agitated when heavy metal is playing. (However, this finding doesn't exclude that at least some animals may be more partial to Metallica than to Mozart!)
All eyes and ears
Let's go back to the above-mentioned footage of animals listening to live music. Cows, it seems, like jazz , as well as classical music . Elephants appreciate Beethoven , blues , and sounds of the violin , as do these horses . And it's not just large animals that are sensitive to music – just look at these otters reacting to the guitar. But our favorite is this golden retriever who clearly appreciates his master's strumming and is unhappy when the music stops . He clearly has the sense of rhythm! Now, this particular footage is obviously an ad and not natural or spontaneous like the other examples. However, it is nevertheless beautiful, especially since sea creatures are known to like music and emit tunes of their own.
Don't play like an animal!
Some time ago, we wrote about a project at the Smithsonian's National ZOO in Washington D.C, which had its animals playing various musical instruments. Whether it was an orangutan playing a xylophone or a bear blowing into a harmonica, these were "unschooled" and spontaneous forays into music. But that's not how we work. Our teachers come to your Manhattan, Brooklyn, or Riverdale home or office to give you lessons, so that you can learn to play your instrument the human way. Together, we'll have a whale of a time!
Photo by unknown, available under Creative Commons Licence.