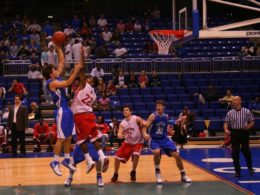 Aim High, With New York Music Lessons!
Starting tomorrow, an exciting period will begin for college basketball players and their fans. We are talking, of course, about "March Madness," which will last until the beginning of April. Strictly speaking, this event marks the beginning of the annual NCAA Men's and Women's basketball tournaments, which will determine the national champions of college basketball. It is the largest national single-elimination competition anywhere in the world.
If you are not a basketball fan (or a fan of any sport, for that matter,), you may be wondering what all the fuss is about. Well, enough people are interested in this event to justify its name, "March Madness," which aptly describes the excitement surrounding this event. And you may also be asking why would a school like ours care about a sports phenomenon that has nothing to do with music lessons. Our answer is that music always finds its way into all kinds of situations. March Madness, for instance, features an annual music festival with the participation of some big names like Bruce Springsteen, Kenny Chesney, Fergie, Rihanna, and others. (Of course, this is not the only sports event that features famous performers – NFL's Super Bowl is another).
Not just basket cases!
There are also more "links" between basketball and music. Did you know that quite a few NBA stars are also talented musicians? For example, Kevin Durant of Oklahoma City Thunder and Cleveland Cavaliers' Iman Shumpert are accomplished rappers. David Robinson, formerly of San Antonio Spurs, is a piano and saxophone player. And Jerry Stackhouse, who played 18 seasons in the National Basketball Association and currently works as an assistant coach for the Toronto Raptors, has a pretty good singing voice. He even performed the "Star-Spangled Banner " at a NY Nets versus Chicago Bulls game. Here are some more basketball champs with musical talents.
Hoop-la about our lessons!
Now that you know why March Madness is such a huge event, let's listen to a few songs that are appropriate for this occasion: "Roundball Rock " "Basketball " "Heart of a Champion " "That's How I Beat Shaq " Having said that, let's look at the big picture: there are songs and pieces of music that are uniquely suitable for all sorts of events and occasions – sports and others. So why not invite one of our music teachers into your Manhattan, Brooklyn or Riverdale home or office and find out for yourself why we are always on the ball!
Photo by unknown, available under Creative Commons Licence.