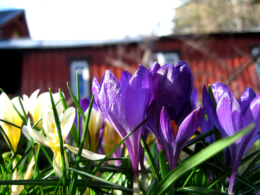 With Brooklyn Guitar Lessons You'll Spring Right Into Music!
"It was one of those March days when the sun shines hot and the wind blows cold: when it is summer in the light, and winter in the shade." ~Charles Dickens, Great Expectations This quote is very fitting because yesterday, March 20, marked the Vernal Equinox – the first day of spring! This must be a happy event for all those who are sick and tired of winter, including millions of New Yorkers who are still shivering from the massive blizzard that blanketed our city with snow in January.
Of course, as much as we crave a less inclement weather, this season – and especially the month of March – can be unpredictable. As Mark Twain said, "In the spring I have counted one hundred and thirty-six different kinds of weather inside of four and twenty hours." Still, the mere promise of the warmth and sunshine ahead is enough to make our hearts sing. And this is our clever segue into music!
A bountiful season
Not surprisingly, spring had inspired many composers to write some of their most beautiful pieces. For instance, there is the "spring" section in Antonio Vivaldi's "The Four Seasons," which is so light and upbeat that it aptly expresses the joyfulness of the season. Robert Schumann composed "Spring Symphony ;" Felix Mendelssohn wrote "Spring Song ;" and Igor Stravinsky composed "Rite of Spring ." Of course, there is also Ludwig van Beethoven's "Spring Sonata ," as well Johann Strauss's famous waltz, "Voices of Spring " But – psssst – we'll let you in on a secret: while we love these (and other) "spring" compositions, we have a special affinity for Frederic Chopin's "Spring Waltz ." To us, this melody evokes the image of a sunny day and a butterfly flittering from one (spring) flower to another.
Turn over a new (musical) leaf!
Spring imparts a sense of renewal that inspires us to bring our creative energy – whatever form it may take – to fruition. In other words, it is a time for making choices and taking action. For example, if you (or a member or your family) are thinking of learning to play an instrument or develop your voice, now is a good time to begin your private lessons. And starting is really easy: just contact us, tell us what instrument you'd like to play, and one of our amazing teachers will…spring into action right in your Manhattan, Brooklyn, or Riverdale home office.
Photo by unknown, available under Creative Commons Licence.