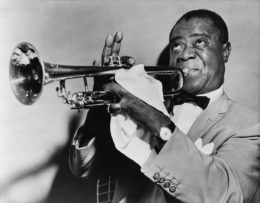 All That Jazz – And More – at New York Music School
During the month of April, we'll all be in a jam. We hasten to add, however, that – in the context of this blog – there is no negative connotation to this phrase. To the contrary – it's all good!

Let us explain: the National Museum of American History, in partnership with the National Endowment for the Humanities as well as several other national organizations, designated April as the Jazz Appreciation Month – JAM!
The celebrations will culminate on April 30, which UNESCO proclaimed as International Jazz Day. As the organization notes, "this international art form is recognized for promoting peace, dialogue among cultures, diversity, and respect for human rights and human dignity, eradicating discrimination, promoting freedom of expression, fostering gender equality, and reinforcing the role of youth for social change."
Roaring '20s
JAM is, of course, a wonderful tribute to this uniquely American style of music, but it's interesting to note that jazz had not always been so highly regarded. In fact, in its August 1921 issue, Ladies Home Journal claimed that this new genre invoked "savage instincts" and was "an influence for evil."
For the older generation of the 1920s, which was accustomed to a more structured and rhythmical music based on the chords and harmony, the chaotic and pulsating beats of jazz were a shock.
But it wasn't only the music that was seen as evil. The jazz also ushered in the wild and crazy lifestyle propagated by the new pleasure-seeking and rebellious generation, which broke all the Victorian rules of earlier eras.
It is worth noting that somewhat similar reactions had greeted other music forms that developed in the 20th century – like rock'n'roll for example. In the 1950s, crooner Frank Sinatra called this new music genre "the most brutal, ugly, degenerate, vicious form of expression it has been my displeasure to hear."
But, we digress. Let's go back to jazz.
Born in the USA
Jazz sprang up in New Orleans in the early part of the 20th century, having developed from another uniquely American music genre – ragtime.
And despite the outrage sparked by the advent of the jazz age, this music form continued to gain popularity and, gradually, acceptance. Dances – including the Charleston, Black Bottom, Tango, Shimmies, and the Trot – were part of the craze. A new generation of young and liberated (for the era) women, called the flappers , embraced the jazz – not just the music itself, but also the newfound freedoms that came with it.
With time, legendary artists like Dizzy Gillespie, Charlie Parker, John Coltrane, Count Basie, Duke Ellington, Louis Armstrong, and Miles Davis – among many others – developed new jazz forms, including Dixieland, big band, bebop, and cool.
What's the best compilation of jazz music? Well, "best" is subjective and relative, but here are a few examples of some excellent performances to celebrate the Jazz Appreciation Month – every day of the year!
Live – from New York City!
Some of the instruments associated with jazz are the saxophone, trumpet, guitar, clarinet, piano, drums, and double bass. It so happens that we teach all of them – and then some.
One of our teachers will be happy to come to your Manhattan, Brooklyn or Riverdale home or office and jazz up your music lesson. Just contact us and we'll start …jamming together!
Photo by unknown, available under Creative Commons License