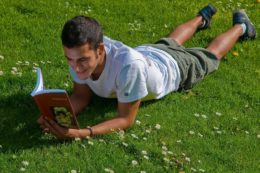 Find Rhythm and Rhyme, With New York Music Lessons
Roses are red, violets are blue, I like poetry and you do too.
Okay, we know we won't win any literary prizes for this little ditty, but this is just a way to let you know that the Academy of American Poets has designated April as National Poetry Month.

Not only does this event highlight "poetry's vital place in our culture," but it also encourages private and public readings as a way for people of all ages and walks of life to get to know this art form.
We love this initiative, especially considering the very close relationship between poetry and music. What could be more poetic than this?
Common ground
If you think that there is no correlation between the two art forms, we beg to disagree. They are tightly intertwined, like a close-knit family, and not only because both are creative and inspirational forms of expression.
One might be communicated through words and the other through sounds, but music and poetry both rely on the same elements: flow, rhythm, expression, and emotion. And speaking of emotion, there is actually a British study, which demonstrated that listening to music and reading poetry produce the same strong, shiver-in-the-spine sensations, thoughts, and imagery.
As the 17th century English historian Thomas Fuller said, "Poetry is music in words and music is poetry in sound." We couldn't have put it better – or more poetically – ourselves!
Songs inspired by poems
There are quite a few songs whose lyrics had been inspired by poems. For instance, "My love is like a red, red, rose," and "Auld Lang Syne" are based on poems by the 18th century Scottish poet Robert Browning.
"Because I Could Not Stop for Death" by our own Emily Dickinson was also set to music , as were some of her other poems, such as "If You Were Coming In The Fall" and "Hope."
Many of William Shakespeare's poems provided lyrics for songs as well, among them "Under the Greenwood Tree," and "Double Trouble" from the Harry Potter and the Prisoner of Azkaban soundtrack.
There are many more examples: lyrics to "Hail to the Chief," came from a poem, "The Lady of the Lake," written by Sir Walter Scott. And the words to "America the Beautiful" are from a poem of the same title by Katharine Lee Bates.
We'll stop here, but there are numerous other examples of poems that were set to music, proving that the two art forms seamlessly converge.
Artistic expression
Now, our music teachers are not poets in the traditional sense of the word, but their music lessons are poetry in motion.
We don't mean to wax poetic, but when one of our music teachers shows up at your Manhattan, Brooklyn or Riverdale home or office, he or she will make sure your fingers perfectly strum the strings of the guitar or flutter gracefully over the piano's keys.
Photo by unknown, available under Creative Commons License