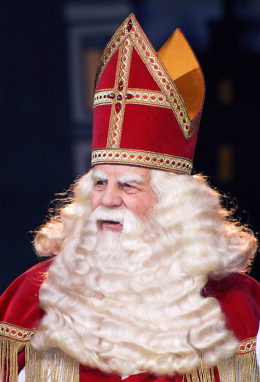 Get To Know Santa's Ancestor, With Manhattan Music Lessons
Christmas is soon here and you know what that means: Santa Claus is coming to town . But wait. Before the jolly old Kris Kringle makes his annual appearance, he will be pre-empted by another traditional holiday visitor: St. Nicholas. In fact, long before the white-bearded, red robe-clad Santa became popular towards the end of the 19th century, it was St. Nick who –according to the traditional lore – distributed gifts to good children in many parts of the world.
But while Santa is "on the job" on Christmas Eve, transported hinter, thither and yon by his flying reindeer, Nicholas works the world on December 6, traveling by foot, on horseback, donkey, or other modes of transportation. Who exactly is this mysterious figure? Unlike Santa, who, in his modern form, was created by the Coca-Cola Company in the 1920s, St. Nick was a real Greek bishop, who lived in the 3rd and 4th centuries; by the early 13th century, he became known as a patron of children and a magical gift bearer.
Overshadowed by Santa
December 6 is still largely celebrated as St. Nicholas Day across Europe. The gifts he brings usually consist of treats like cookies and chocolate, unlike big ticket-items Santa is known for. Also, if a child has been particularly naughty during the year, St. Nick will give him ribbon-tied birch twigs, which are comparable to lumps of coal in the more modern Santa version. What about the United States? The tradition of St. Nick is not as common here, even though early European immigrants brought some of their customs to America. To this day, some Greek and Russian Orthodox churches, as well as those with the strong Dutch or German heritage, still celebrate December 6 as St. Nicholas Day. But at least at one point in history, St. Nicholas made news in our city. On December 7, 1773, the New York Gazette reported: "Last Monday, the anniversary of St. Nicholas, otherwise called Santa Claus, was celebrated at Protestant Hall, at Mr. Waldron's; where a great number of sons of the ancient saint [the Sons of Saint Nicholas] celebrated the day with great joy and festivity." Another such notice appeared in 1774: "Monday next, being the anniversary of Saint Nicholas, will be celebrated by the descends of the ancient Dutch Families."
Celebrate with music
You don't want St. Nicholas to bring you birch twigs, or, even worse, get lumps of coal from Santa? Well then, don't skip your lessons (the same goes for your kids) and continue to practice regularly. No matter what holidays you celebrate, our teachers will always be available to come to your Manhattan, Brooklyn, or Riverdale home or office, bearing the gift…of music!
Photo by unknown, available under Creative Commons License