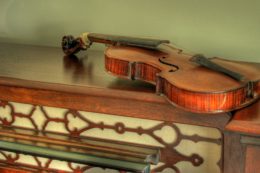 Find Out About Instrumental Difference, with Manhattan Music Lessons
Last month we posted a blog about how some vintage instruments have increased in value over the past decades. Now, we'd like to talk about the musical instruments that are currently considered to be the most expensive in the world and, who knows, maybe even in the entire universe!
Not surprisingly perhaps, in the first place is "The Hammer" violin by who else but Antonio Stradivari. It is so named because it was once owned by a 19th century Swedish collector named Christian Hammer. In 2006, this gem was sold at an auction to an anonymous bidder for over $3.5 million, the highest price ever paid for a Strad. Let's look at some other highly-priced instruments, all of which just happen to be strings.
Rare and beautiful
It may not be quite as pricey as the Hammer Strad, but Eric Clapton's Fender Stratocaster guitar is not exactly a bargain either. The instrument he named "Blackie," which was built in the 1950s and was previously used by legendary musicians like Buddy Holly, Stevie Ray Vaughn, and Jimi Hendrix, is valued at $959,500. "Blackie" is the most costly guitar but not the only expensive one. In 1930, the renowned guitar maker C.F. Martin and Company manufactured 15 pieces of the OM-45 Deluxe model. One of them was owned by the "singing cowboy" Roy Rogers, who eventually sold the instrument in 2009 for the price that exceeded all estimates – a whooping $554,500! Only slightly cheaper was the price of the rare viola manufactured by the renowned 16th century instrument maker Gasparo Bertolotti da Salo. One of his violas (he only made 60 during his lifetime) recently sold for $542,000. Let's move on to the violoncello created by the 18th century Italian luthier Gennaro Gagliano: in 2009, this instrument was sold at an auction for $362,500. And then there is the violin made in 1701 by another well-known Italian instrument maker, Carlo Giuseppe Testore. It recently sold for $218,500. These are just some examples of very valuable and expensive musical instruments. There are several more.
We won't string you along!
Needless to say, the vast majority of musicians and music students have probably never seen such rare and expensive instruments. But the good news is that you don't have to own a Stradivari, Bertolotti, Gagliano, or Testore in order to appreciate your instrument and become proficient in music. Whether you play one of the above-mentioned strings, or any other instrument, one of our teachers will come to your Manhattan, Brooklyn, or Riverdale home or office to give you lessons.
Photo by unknown, available under Creative Commons License.