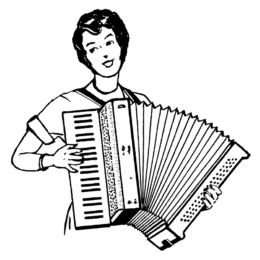 Put your hands together and play – Manhattan music lessons will show you how!
As musical instruments go, the accordion is a happy little fella. It may not have the elegance of the violin, the sophistication of the piano, or the smooth sound of the saxophone, but it is – no pun intended – an upbeat and cheerful instrument that makes people want to get up and dance.
Even though the accordion has been widely used in all kinds of music, it is most commonly associated with the lively "oom pah pah" rhythms –polkas , waltzes , and other buoyant sounds.
A barrel of fun
It is perhaps fitting that an instrument that conjures up images of Oktoberfest, lederhosen and beer steins, originated in German-speaking countries. Though the earliest designs for this woodwind / free reed instrument were credited to the ancient Chinese, the accordion as we know it today was first invented in 1822 by a German instrument maker Christian Friedrich Ludwig Buschmann; seven years later, an Austrian organ and piano manufacturer, Cyrill Demain, patented an updated version. German immigrants who settled in Texas introduced this instrument to America in the mid-19th century. While these migrant farm workers used to play polkas and waltzes, Mexican laborers who heard it, played this instrument to accompany their lively folk dances. In fact, one of the most prominent Mexican-born accordion players of the first half of the 20th century, Narciso Martinez , was considered to be the "father" of a tejano style of accordion music known as "conjunto" – played in a group. With time, as the accordion music became more popular across America, it found its place in the Big Band orchestras, Latin and Cajun music, rock and roll, blues, and folk – as a matter of fact, it is fair to say that this instrument fit well into a variety of genres.
A-one, a-two
When you hear words like "champagne music," "polka," and "wholesome fun, "chances are (especially if you are over 40) that you think about Lawrence Welk and his long-running TV show (as we said, you really do have to be the other side of 40 to remember this, or else be a TV nostalgia buff.) Son of, appropriately enough, German immigrants, Welk learned to play the accordion as a young boy, a skill he showcased frequently on his long-running show, often accompanied by his accordionist, Myron Floren Welk used to tell a story about how, as a youngster growing up in a poor North Dakota family, he convinced his father to buy him a mail-order accordion for what was back then $400, equivalent to about $4,600 today. To repay this sum, he promised his father to work on the family farm until he turned 21, a promise that he had lived up to. It is clear that Welk was dedicated to learning the accordion. Are you?
We'll leave it …in your hands!
Okay, so you may not live on a farm in North Dakota (neither do we), or even wish to make a career out of playing polkas, but you probably agree with us that the accordion is a friendly, likeable, and versatile instrument. Why is that? Because you can learn not only to play music on it, but also melody, accompaniment, and rhythm – all from one instrument! Ready to start? Our music lessons are at your service. Just contact us and one of our accordion teachers will come to your Manhattan, Brooklyn, or Riverdale home or office and teach you. You will soon find out that playing this instrument is, in Lawrence Welk's memorable words, "wunnerful, wunnerful."