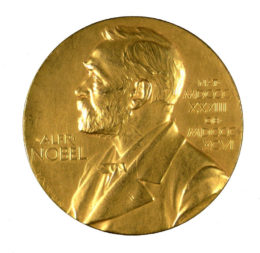 Get the Highest Honors, With Brooklyn Music Lessons
We bet you don't know what today is. Yes, it is Thursday, December 10, but this day also marks a little-known and not much celebrated occasion: the Nobel Prize Day. Why December 10th? Because Alfred Nobel, who created this prize, passed away on this day in 1896. A year prior, Nobel, a Swedish chemist who invented the dynamite, wrote his last will, leaving much of his vast wealth to the establishment of the Prize that would honor men and women for outstanding achievements in physics, chemistry, physiology or medicine, literature, and for work in peace.
The first Nobel was awarded in 1901 to Henri Dunant, the Swiss doctor who founded the International Committee of the Red Cross. Since then, some 900 people and organizations received this honor.
Geniuses at play
What we found very interesting is that many of the Nobel Prize winners, especially in the physics category, were music aficionados and even accomplished musicians themselves. It only goes to disprove the common perception that music and science don't mix or, if you prefer to re-phrase it, that people with "scientific" minds have no interest in or "feel" for music. Clearly, this isn't so. Let's see which geniuses were music fans.
Albert Einstein, who won the Nobel Prize in Physics in 1921, loved his violin, although he could also play the piano. And according to a biography of the great scientist, one of the pieces he had been working hard to master as a student was the G-major violin sonata by Brahms.
The recipient of the 1952 Nobel Peace Prize, theologian Albert Schweitzer, loved to play the organ.
Donald Glasser, a physicist who was awarded the Nobel in 1960, played the violin.
Richard Feynman, who co-won the Nobel Prize in Physics in 1965, was good at playing the bongo drums.
Saul Perlmutter, who was awarded the Nobel in Physics in 2011, is not only a violinist, but he also teaches a course at UC Berkeley titled "Physics and Music."
Thomas Südhof, who won the 2013 Nobel Prize for Medicine/Physiology, plays the bassoon. In fact, in an interview with the editor of a bassoon magazine, he stressed the value of the discipline he had acquired from immersion in music.
Obviously, we can't mention here hundreds of other distinguished Nobel musicians, but the six listed above prove that music and brilliant minds go hand in hand!
Prized teachers
We are not going to tell you that when a teacher of ours comes to your Manhattan, Brooklyn, or Riverdale home or office, you will have a genius on your doorstep. We believe in full disclosure so we are letting you know that none of our teachers ever won (or was even nominated for) the Nobel Prize. But that's okay, because we know beyond a shadow of the doubt that we have the best-trained teachers in New York City. Their dedication, experience, and teaching techniques take the prize!
Photo by unknown, available under Creative Commons License