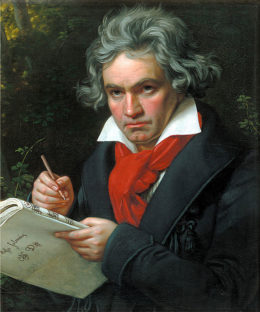 New York Music Lessons Won't Let You Give Up!
Many people, including some music lovers, may not realize that mid-December marks the 245th anniversary of the birth of Ludwig van Beethoven. His exact day of birth in 1770 remains elusive, but we do know that he was baptized on December 17, which means he was born just days prior (in the 18th century, it was a common practice to baptize newborns within a week of their birth).
Beethoven, of course, grew up to be one of the most gifted composers of all time, with nine symphonies, 32 piano sonatas, one opera, five piano concertos, and many chamber works to his name. A remarkable thing about Beethoven's music is that he began to lose his hearing at the age of 26, and became completely deaf within the next 20 years. However, this disability did not stop him from composing – in fact, he wrote one of his best known pieces, the Ninth Symphony , with little hearing ability. Beethoven had not given up his passion because of deafness, providing inspiration in resilience and perseverance to future generations. Here's a look at some famous musicians of our time, who had to overcome various disabilities to achieve greatness.
Their own "Ode to Joy"
Let's start with Itzak Perlman, widely considered to be the greatest violinist of the 20th century. He contracted polio at the age of four and his legs were paralyzed. But he managed to walk with crutches and learned to play the violin while seated . Then there is the "wonder-ful" singer and multi-instrumentalist Stevie Wonder, who has been blind since birth. Yet, despite his disability, Wonder has released more than 30 No. 1 hits and is among the most decorated artists in history. And speaking of blindness, let's not forget to mention the great Ray Charles. He lost his sight to glaucoma by the age of seven, but still managed to learn to play the piano, organ, saxophone, clarinet, and trumpet, becoming one of the most successful singers in the R&B, jazz, soul, pop, and country music. Let's also remember the Def Leppard drummer Rick Allen who lost his arm in a car accident on New Year's Eve 1984. He worked long and hard to learn how to play drums with extra foot petals to replace his missing arm. He was back and drumming with the band for their 1987 hit album, "Hysteria ," which sold more than 20 million copies.
Keep on playing!
If there is a teachable moment in the above-mentioned stories, it is this: adversity happens, but with strength, courage, and determination, we can overcome the obstacles on our way. It's not just disabilities or health issues in general that can cause us to lose faith. Sometimes stress, tiredness, or other issues lessen our motivation to keep going – whether with music lessons or any other task. Do you (or your child) need encouragement to keep up with the music lessons? Our teachers are known around here as "great motivators!" So invite them into your Manhattan, Brooklyn or Riverdale home or office, and keep on playing!
Photo by unknown, available under Creative Commons License