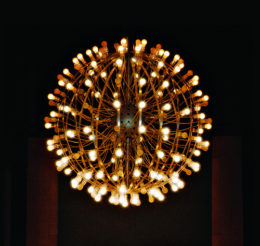 Start The New Year at New York Piano School
A spectacular end to the holiday season in New York occurs on December 31, when a gigantic ball slides down a pole to ring in the New Year at the strike of midnight EST. One million people gather in Times Square and a billion more watch the countdown in all corners of the world.

From its maiden voyage down the flagpole just over a century ago to the present day, "the ball drop" has been a cherished symbol of our city's New Year celebrations. Not even NYC's notorious cold winter weather can keep cheerful revelers from participating in what may well be the jolliest public New Year's party in the country.
There is a lot you may not know about the ball drop beyond what you see on television, so here is a little "tutorial" to get you into the celebratory mood.
A New York tradition
The first ball, which was dropped in 1907, was built by a young Russian immigrant metalworker named Jacob Starr. For most of the 20th century, the company he founded, Artkraft Strauss, was responsible for lowering the Ball. In all, seven different versions of the ball – including one made of wrought iron – have been used in the past.
By the way, the first ball was made from wood and iron, was 5 feet in diameter, weighed 700 pounds, and featured one hundred 25-watt light bulbs. It was impressive by 1907 standards, but today's version is far more advanced : constructed from aluminum, it weighs in at over five metric tons, is covered with wedge-cut crystals and more than 32,000 light-emitting diodes, and is capable of creating billions of kaleidoscopic color patterns.
All year round, the ball sits on top of One Times Square, getting ready for its December 31 one-minute drop: it starts at 11:59 pm and makes its spectacular 141-foot slide to the cheers of the crowds below.
Let us "drop" in!
Of course, no New Year's celebrations would be complete without live music. The countdown show, "New Year's Rockin' Eve," is a big part of the Ball Drop festivities. Since its beginnings in 1972, many famous artists had been featured; this year 38 musical acts are scheduled, including the headliner, Taylor Swift.
We at Hey Joe Guitar will also celebrate the New Year's Eve with music. That's because music is an integral part of our lives – not only on December 31, but also all throughout the year!
No matter what season, month, or day it is, our amazing teachers are always on call and they will come to your Manhattan, Brooklyn, or Riverdale home or office to give you lessons. Whether you or your child want to learn to play the guitar, piano, flute, or any other musical instrument, leave it to us – we'll get the ball rolling!
Photo by unknown, available under Creative Commons License