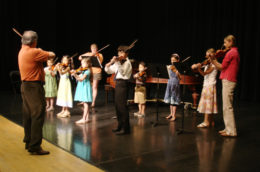 New York Guitar School Gets a High Note!
Welcome to the month of March, which heralds the coming of Spring, signaling the renewal of nature and new beginnings in general. But there is also another reason we love March – it is the Music Education Month in the United States, the annual celebration that engages music educators, students, and communities in promoting the benefits of high quality music education programs in schools.
You may be thinking that music education in our country's public schools has been underfunded and widely neglected. Sadly, this is correct, but now there may be a more promising outlook. That's because last December, President Obama signed into law the "Every Student Succeeds Act," which lists music – and arts in general – as an important part of a well-rounded education. It is the first time in our nation's history that arts and music figure among the traditional core subjects like reading, math, and science. That's the good news. On the other hand, the new legislation gives states more power to decide how to enact the law. This means that implementation or expansion of music programs may not necessarily happen across the board.
Far-reaching benefits
The question of why music education is so very important to children and teenagers has been answered – and documented with scientific evidence – over and over again. The fact is that music lessons have a multitude of benefits, including scholastic, psychological, social, and physical ones. For instance, music training helps youngsters develop focus, concentration, and alert mind, all of which translates into academic achievement and other successes. But that's not all: music has also been shown to ease both emotional and physical pain in kids and adults alike. These are just some of the advantages of music education, but there are many, many more.
Start learning!
If we take into account each and every benefit listed above, you may start wondering why the other 11 months of the year are not dedicated to celebrating music education. We are happy to tell you that at Hey Joe Guitar, we pay tribute to music every single day. That's because we know first-hand what a positive impact our lessons have on our students – not just children and teenagers, but also adults, who have noticed both physical and mental improvements. The best way to start your own (or your child's) music education – whether by learning to play an instrument or taking voice lessons – is to invite one of our music teachers into your Manhattan, Brooklyn, or Riverdale home or office. Just contact us and… get educated!
Photo by unknown, available under Creative Commons Licence.