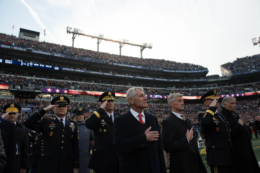 Sharpen Your Patriotic Spirit, With Manhattan Music Lessons
Even the most patriotic citizens may not know that today, March 3, is the National Anthem Day. This is a good time to ask: how well do you know "The Star-Spangled Banner"- not just the lyrics, but also the history behind this song? Chances are that you either don't know or don't remember. In that case, today is as good a time as any for a little tutorial about the song that is the enduring symbol of our national identity and pride.
By the dawn's early light…
The anthem was inspired by the events at the Battle of Baltimore, which occurred during the War of 1812. When a Washington lawyer and amateur poet Francis Scott Key saw the American flag flying above Fort McHenry as it was attacked by cannon fire, he was inspired to write the poem he entitled "Defence of Fort McHenry." Within a week, the words were printed in Baltimore newspapers; soon it was set to music and re-titled as "The Star-Spangled Banner." However, at that time the "Banner" was just another patriotic song, along with "Hail Columbia " and "Yankee Doodle Dandy ." During the Civil War, however, it became an anthem for Union troops, increasing in popularity over time. In 1916, President Woodrow Wilson signed an executive order designating it as "the national anthem of the United States," to be performed at all military ceremonies. In 100 years since then, the anthem has been played not only at military ceremonies, but also at ball games, Independence Day observances, and other special occasions.
Through pressure and accident…
"The Star-Spangled Banner" was born out of a genuine patriotic feeling and a desire to immortalize an event in our nation's history. But not all anthems came into existence this way. For instance, the anthem of our south-of-the-border neighbor, Mexico, has an interesting history of its own: in 1853, the country held a contest for the most inspiring patriotic lyrics. The girlfriend of the poet Francisco González Bocanegra tried to convince him to participate, but he didn't want to. So she locked in him in a room filled with pictures of scenes from Mexican history; Francisco had no choice but to pen a poem that became the foundation of that nation's anthem . And some anthems were purely accidental, created in a moment of panic. This is how it happened: When the Sultan of the Malaysian province of Perak arrived in London at the invitation of Queen Victoria in 1888, his aide was asked for the music to the anthem to be played during the welcome ceremony. At that time Malaysia had no anthem but the aide was not about to admit it, so he hummed a popular love song from the Seychelles Islands, called "Moonlight." That tune, albeit with new lyrics, is still the country's national anthem . (Interestingly enough, the original "Moonlight" lyrics are now banned in Malaysia).
Any type of music
Whether you would like to play (or hum) the national anthem of any country, or any other tune, we can help! Just contact us and we'll send one of our amazing music teachers right to your Manhattan, Brooklyn, or Riverdale home or office. In the meantime, have a happy National Anthem Day!
Photo by unknown, available under Creative Commons Licence.