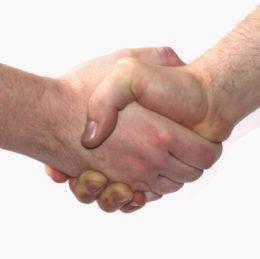 Manhattan Music School is a "Friendly" Experience
Here's a thought that probably never crossed your mind: if classical composers were alive today and good at using social messaging tools, what kind of tweets or Facebook posts would they be putting out about their BFFs? We are only guessing, of course, but perhaps Mozart would post something along the lines of: "Hanging out and jamming with Haydn."
And it is certainly within a realm of possibility that teenage Beethoven would take to social media to brag: "Traveling to Vienna to finally meet my main man, Mozart." He might even add a smiley face to his post.
Sounds far-fetched? Maybe it is, but the fact remains that even though we think of great composers as geniuses (and rightly so), they too were human and enjoyed friendships with other accomplished musicians of their time.
The Mozart effect
One of the best-documented relationships of the Classical period was the friendship between Mozart and Joseph Haydn. Based on historical evidence, the two Austrians got along, um, famously, even though they had different temperaments: Haydn was, by all accounts, calm and reserved, while his younger counterpart was more vivacious and mercurial (which only goes to prove that opposites really do attract). Their orchestras were structured slightly differently as well: Haydn preferred the English horn over the clarinet, whereas Mozart favored the latter instrument. As Mozart said, referring to Haydn, "He alone has the secret of making me smile and touching me to the bottom of my soul." In fact, between 1782 and 1785 Mozart dedicated a group of six string quartets one , two , three , four , five and six to Haydn
A talented pupil
Now, what about the relationship between Mozart and Beethoven? It was not so much a friendship as a mentor – student relationship. As a young man, Beethoven admired Mozart, who was 14 years his senior, and hoped to take music lessons from the great composer. Finally, in 1786, young Beethoven traveled from Bonn to Vienna to meet his idol. According to historical accounts, Mozart was reportedly in a foul mood and when the young prodigy showed up at his house, he demanded: "Play something!" Beethoven performed the opening of Mozart's C minor Piano Concerto . "Not that," Mozart said gruffly. "Anybody can play that. Play something of your own." Beethoven did and when he finished, Mozart told his wife, Constanze, "Watch out for that boy. One day he will give the world something to talk about." He agreed to take Beethoven on as a student, but Beethoven's mother became ill and he had no choice but to return to Bonn. By the time he came to Vienna again in November 1792, Mozart was dead. Beethoven remained an admirer of Mozart's even as his own fame grew. In 1798 he published his variations for cello and piano on the aria "Ein Mädchen oder Weibchen" from Mozart's The Magic Flute, followed four years later by his variations on another Magic Flute aria, Papageno's "Bei Männern, welche Liebe fühlen."
Let's be friends!
We find the above stories of friendship / mentorship very inspiring – and there are more examples! We hope that they will inspire you to start playing any of the instruments mentioned above – the piano, cello, or other instruments. Contact us, and one of our fantastic teachers will come to your Manhattan, Brooklyn, or Riverdale home or office for a truly inspiring lesson!