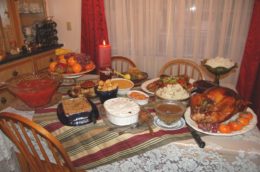 Get Ready to Celebrate, With New York Music School
To most of us Thanksgiving means stuffed turkey with all the delicious trimmings, pecan and pumpkin pies for dessert, and afterwards a football game. That's the traditional take on Thanksgiving. But there is no law, rule, or regulation that says it's the only way to celebrate this holiday. Is there a reason you shouldn't have pizza instead of turkey? No, there isn't.
In fact, some folks are eschewing the customary way of celebrating Thanksgiving and creating some wacky traditions of their own. And that is okay – after all, change is good. So this blog is dedicated – in the words of Apple founder Steve Jobs – "to the crazy ones. The misfits. The rebels. The troublemakers. The round pegs in the square holes. The ones who see things differently."
Re-writing tradition
A couple of years ago, USA TODAY asked its readers on Twitter about the unusual family traditions that people look forward to the most on Thanksgiving. Among some funky answers was a longstanding tradition of ordering Chinese food on Thanksgiving and eating it in the den. Another reader reported that much of the day is spent "hiding in the garage, sipping apple pie rum." On another site, people report having Thanksgiving paintball tournaments, and roasting a turkey on a stick over a sage fire. And if you believe David Letterman, New York has a funky Thanksgiving tradition of its own, which has nothing to do with the Macy's annual parade. "In New York City there are lots of engaging Thanksgiving traditions," he said.  "For example, a lot of New Yorkers don't buy the frozen Thanksgiving turkey. They prefer to buy the bird live and then push it in front of a subway train." (Lest animal lovers take this seriously, let us assure you that Letterman was joking – at least we hope so!) And speaking of odd Thanksgivings, many of us tend to think that the modern version of this holiday is similar to the way Pilgrims celebrated it. If you subscribe to this view, you might be surprised by these archives from the Library of Congress. They show that 100 years ago, Thanksgiving was celebrated very much like the present-day Halloween is. It seems that back then "children and adults alike would dress up and go on 'crawls' in big cities like New York and Chicago… fantastically garbed youngsters and their elders were on every corner of the city." Instead of turkeys, they would get "pennies and nickels, apples, or pieces of candy." See? You learn something new every day!
Don't forget the music!
If you are a traditionalist rather than an out-of-the-box thinker, you will probably want to celebrate Thanksgiving in the customary way. If so, have you thought about what background music will be playing while you feast? There are some very nice compilations that will make your meal even more special. And speaking of music, we'd like to remind you that our teachers are happy to follow tradition – the one that involves private music lessons in your Manhattan, Brooklyn, or Riverdale home or office.