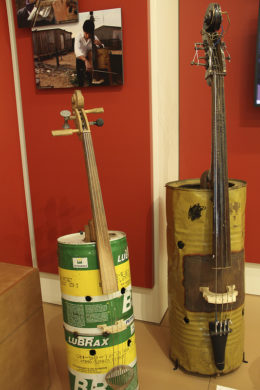 Though at NYC music lessons you can play "real" instruments, spare a thought for those who can't. When you think about playing music, you probably imagine one of the string, woodwind, or percussion instruments, right?
But if you ask kids who live in Cateura, Paraguay what they play, they will tell you that oil cans, salad bowls, and bottle caps make perfectly good instruments. Not only that, but they will also show you that this motley crew of random household gadgets actually makes pretty good music. In fact, this chamber orchestra of 20 youngsters has been using discarded furniture and appliances to perform the music of Beethoven, Mozart, and the Beatles in South and Central America. All this proves that one person's trash really is another person's treasure!
Everything but the kitchen sink Cateura, where these children live, is a vast landfill outside Asuncion, Paraguay's capital, where about 25,000 poor families – many of them trash pickers – live among reeking garbage. The instruments the chamber orchestra uses are made from recycled materials found in the landfill. Have you ever imagined that an aluminum bowl and strings tuned with forks could make a pretty good violin, and discarded X-rays can be used as the skins of a drum set? The kids from the aptly named "Orchestra of Instruments Recycled From Cateura" (also known as the Landfill Harmonic), are proving that with creativity, imagination, ingenuity, and out-of-the box thinking, we can overcome whatever obstacles and challenges life throws at us. In their case, it is poverty and lack of opportunities that would discourage so many of us from even trying. Way to go, kids!
The many lives of garbage Making music with improvised instruments is catching on in the United States as well. A group of high school kids from Sarasota, FL, who call themselves "The Garbage-Men," are fashioning their instruments from trash and recycled materials. For example, an electric guitar is made from a cereal box body, yard stick neck, bottle cap pick-up, lipstick bottle bridge, tooth pick frets, and shoelace strap. For the alto saxophone, they used a corn popper toy for the body, a balloon for the reed, and a medicine bottle ligature. In all, these creative teenagers, built 15 instruments out of garbage, which they use when playing charity concerts at their local venues.
Don't stop the music! What these two examples demonstrate is the importance of music to people everywhere. Unfortunately, not everyone has access to instruments and music education, and that is sometimes as true in our country and city as it is in the slums of Paraguay. In NYC, for example, there are many schoolchildren whose parents can't pay for music lessons, which is why our non-profit CWB Foundation for Children & Music provides music programs to youngsters in this city's economically disadvantaged neighborhoods. We at Hey Joe Guitar believe that everyone who wants to learn to play an instrument should be given opportunities to do so. And we are talking about "real" instruments here, not the makeshift ones – although we are full of admiration for these plucky youngsters who loved playing music enough to find ways to build their own instruments. It's true: necessity really is "the mother of invention." Or, as the Cateura kids teach us, hardships inspire ingenious solutions.
Just some "clean" fun Our NYC music lessons are really good, but in certain areas our learning curve is steep: for instance, we don't know how to fashion a guitar, drum, flute, or any other instrument out of trash or recycled materials (though we do know how to bang pots and pans against each other, if you can call that "music.") But if you want to learn to play a conventionally manufactured instrument, we'll be happy to oblige. Just call us, and we'll come to your Manhattan, Brooklyn, or Riverdale home or office and teach you – and we promise not to pick through your garbage while we are there!
Photo by Kevin Kern