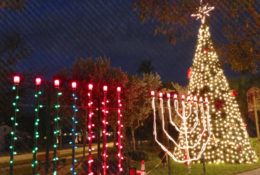 The season of holiday music is upon us again. All across New York City, Christmas songs are blasting at us loud and clear — the traditional tunes we all know so well that we could hum them in our sleep!
You may think you know all the songs by heart, and you probably do. But are you familiar with some of the unusual stories surrounding these tunes?
What better time than now to reveal some of the more salient — and not widely known — details about the most popular holiday songs.
Let's get started.
Did You Know?
"Joy to the World" was originally about Christ's resurrection and his second coming on Easter, not his birth. So strictly speaking, it was not intended as a Christmas song.
"Silver Bells" was originally called "Tinkle Bells." But when the songwriter Ray Evans' wife found out about this title, she responded: "Are you out of your mind? Do you know what the word tinkle is?"
During a Christmas truce in WWI, the French, English, and German troops sang "Silent Night" in their own language. It's too bad that they started shooting at each other when the truce ended.
In 1944, Judy Garland sang "Have Yourself a Merry Little Christmas" in the movie Meet Me in St. Louis, which became an instant holiday hit. But the original song had different lyrics from the ones we hear in the film: the opening lines were "Have yourself a merry, little Christmas/It may be your last." Considering that the song was sung by a mother to her daughter, these words had to be changed. By the same token, other lyrics — "faithful friends who are dear to us gather near to us no more" — were also removed from the film.
These are just some of the interesting facts about Christmas songs, but there are more.
Oh Hanukkah!
What about Hanukkah, which this year is celebrated December 2 through December 10?
Did you know that in the original Yiddish version of "I Have a Little Dreidel" the dreidel is made out of bley, meaning lead. It was translated in English to clay.
There are four versions of Adam Sandler's non-traditional Hanukkah song. The one you don't typically hear is the uncensored version that includes the line "Drink your gin and tonic-ah, but don't smoke marijuan-icah." Another version, however, encourages listeners to "Drink your gin and tonic-ah, and smoke your marijuan-icah."
So there you have it: fascinating, little-known facts about some of the most popular holiday classics. Aren't you glad we told you?
On this note (pun intended), we'd like to wish you all a wonderful and magical holiday season!