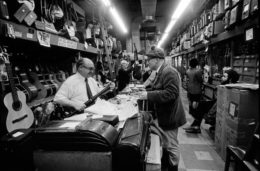 Don't Forget the Music, With Manhattan Guitar School
As New Yorkers, we are always sad to see when a historic part of our city disappears. Last month, we were heartbroken when the last store on the famed Music Row had closed its doors. As New York Times reported, "in December, the last holdout, Alex Carozza, packed up his accordion store and 50 years of memories and moved off the block."
In fact, music shops on the Row have been slowly dying for the past several years, closing their doors one by one, victims of raising rent prices and the competition from mega-stores that have been driving privately owned retailers away. "Now, all that is left of Music Row are the signs and awnings that beckoned to virtuosos and neophytes alike," the article noted. "The block is haunted by empty buildings and the occasional tourist straining for some echo of its harmonious past." And the past had, indeed, been "harmonious" – both literally and figuratively.
Gone, baby, gone!
Since the 1930s, the once thriving block of 48th Street between Sixth and Seventh avenues used to serve as a one-stop music stop – a veritable mecca for musicians and music lovers from New York and beyond. Rock legends like Jimi Hendrix, Eric Clapton, The Beatles and the Rolling Stones, to name just a few, shopped there for instruments, sheet music, amps, and other tools of the trade. Before it closed, Manny's, where many artists bought their first guitar, displayed personal notes of thanks from Bob Marley and Bob Dylan. There was also Rudy's Music Stop guitar and repair shop, which opened in 1978 and closed last August; others, like We Buy Guitars, 48th Street Music, Colony Music Center, New York Woodwinds and Brass, also closed. "The Music Row's demise," the article points out, was "brought on by the soaring value of real estate and the conveniences offered by the Internet — those modern forces that have reshaped so much of New York City's commercial landscape." This once vibrant section of the West Side is now a ghost town of sorts. Where once there were music shops, "now there are demolition crews, 'for rent' notices and a construction office for the glass tower going up around the corner," the New York Times writes. How can we not be sad at this turn of events?
We are here for you!
Some changes are obviously positive – we are all in favor of our city growing and developing for the benefit of all its residents. But we can't help feeling sorry to see such an important and integral part of NYC's music history gone forever. However, we are happy that Hey Joe Guitar remains a viable part of New York's music scene. We are especially proud of our amazing teachers, who are always on the go – to give lessons in their students' Manhattan, Brooklyn, and Riverdale homes and offices. May we serve you for many years to come!
Photo by New York Times.