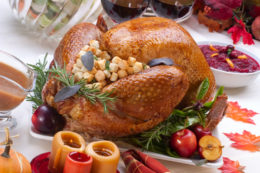 Manhattan Music Lessons: We Reveal Which Great Composers Had Their Plates Full
Thanksgiving – a time for good food and great company. It is also an opportune moment to ask this question: if you could invite any classical composer to your Thanksgiving dinner, who would that be?
You may have favorite composers, but would you want to sit at the table with someone – no matter how famous and gifted – who is not a good conversationalist or, for that matter, ill-mannered?

Miles Hoffman, music commentator at National Public Radio (NPR) weighed in on this topic and came up with a list of composers who, in his opinion, would be terrific dinner guests.
Have a look and see whether you agree:
A VIP Thanksgiving
Are you a fan of Beethoven's music? As talented as he was, the great composer would likely not make a good guest. As Hoffman noted, Beethoven had "a little too much tendency to be rude and crabby."
What about Mozart? "He would be fun," Hoffman says. But he points out that the composer's "off color" sense of humor might not be to everyone's liking. So there is no clear opinion on the, um, Mozart effect at the dinner table.
Does this mean you'd have to miss out on having these two geniuses over for Thanksgiving? Not at all! "I'd invite them for lunch instead," Hoffman says. "Turkey sandwiches on the weekend after."
What about musical greats who would be the life of the party?
The first on Hoffman's list is Johann Sebastian Bach – "he drank a lot of beer, so I think that probably he was pretty jolly."
Then there is Felix Mendelssohn, who Hoffman would place next to Bach "because he was almost single-handedly responsible for the revival of interest in Bach's music." But that's not all. Mendelssohn "was generally brilliant, extremely well-read, and incredibly nice guy. Plus, he spoke English."
Next would be Hector Berlioz – "a fascinating man in every way, clever, witty, and filled with passion and personality."
The American contingent would include Leonard Bernstein, George Gershwin, and Ernest Bloch – the founding director of the Cleveland Institute of Music and first director of San Francisco Conservatory.
Gobble up!
We are thinking that any person – including a composer – who loves food is bound to be a decent party guest. Even if he is not socially adept, jovial, or a masterful conversationalist, in the very least he will be a good eater. According to the website of BBC Music Magazine, these are some of "foodie" composers:
Gioachino Rossini, whose love of food, the magazine claims, "was evidenced not just by his ever-expanding waistline, but also the number of dishes named after him, including Tournedos Rossini and Eggs Rossini."
Richard Wagner. His wife, Cosima, reportedly said that the composer was "a vegetarian in principle but in practice, neither his health nor the orders of his physician allowed him to be."
Frederic Chopin was a fan of "zrazy," a Polish dish made of thin slices of chopped beef and stuffed with vegetables and eggs. Not exactly your typical Thanksgiving meal, but anyone who can eat "zrazy" will probably not be averse to the turkey either!
After dinner, stretch your fingers!
While you are thinking about which composers you'd like to have at YOUR Thanksgiving celebration, consider inviting someone else into your home – one of our teachers.
We are not talking about Thanksgiving dinner per se, but about all-season, year-round music lessons in your Manhattan, Brooklyn or Riverdale home or office.
Whatever instrument you'd like to play – small ones like the flute, violin or guitar, or larger ones such as the piano, cello, or base – please contact us to get started.
Thanksgiving comes but once a year, but the joy of music is timeless!
Photo by unknown, available under a Creative Commons License.