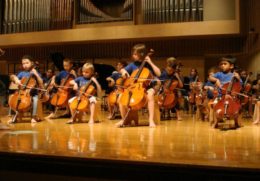 At New York Music School, Cello is Another String to Your Bow
At Hey Joe Guitar, we love to hear or read interesting stories about musical instruments. Far from being just inanimate objects, many of them have a fascinating "personal" history, just like human beings do.
One case in point is a "trench" cello, which, as recently reported by BBC, was built by a British soldier during WWI. Obviously, given its precarious beginnings, the cello was not made out of wood (as these instruments usually are) but from an old oil can. When the soldier in question died, his family donated the war-worn instrument – believed to be the only surviving cello actually made on the front lines – to a local museum. The "trench" cello, the museum's curator noted, "is such an evocative object – you can see the inventiveness of the maker in the beautiful hand-turning of the neck and shaping of the oil can to create a real musical instrument. It's easy to imagine it bringing a little cheer in the most tragic circumstances."
From the war zone
Now, you might think this is a sole example of a makeshift cello dating back to WWI. Actually, there is another such instrument that we know of. A French soldier, Maurice Marechal, (a musician before the war) asked two comrades-in-arms, who were carpenters in civilian life, to make a cello for him. The two soldiers fashioned the instrument from the only materials they could find in the combat zone: the wood from an ammunition box, as well as pieces of old door. When the regiment left for the front, the cello traveled with them, placed in the supply van above the tinned food. Sadly, the two carpenters were killed in combat but Marechal – who, as the story goes, considered his makeshift instrument to be as valuable as a Stradivarius violin – survived, as did his precious cello. It now lives in the Music Museum in Paris, but playing or restoring it could damage the fragile instrument. However, an identical copy was made and it replicates the original sound beautifully.
We come in peace!
These two stories are very touching and poignant, and we are glad that they have given us a chance to talk about the cello – a graceful string instrument that looks like a larger version of the violin. (It is, in fact, closely related to the violin, – its full name is violoncello – though the cello has thicker strings). An integral part of classical and chamber orchestras, string quartets, and other ensembles, the cello emits a beautifully deep and rich sound, especially when handled by the very capable hands of Yo Yo Ma . In case the two aforementioned stories have inspired you (or a family member) to play this instrument, we will be happy to help. We have excellent cello teachers who can come to your Manhattan, Brooklyn, or Riverdale home or office and give you lessons – whatever your age or proficiency level. Let's put it this way: for your cello teacher, you'll always be the first string!
Photo by unknown, available under Creative Commons License