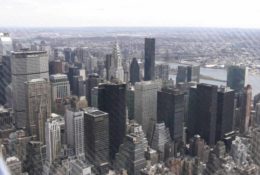 New York City has a long and proud musical history —to paraphrase a famous song, "if you can make it there you'll make it anywhere."
Our city is not only the birthplace of several music genres like hip hop, freestyle, doo wop, bebop, disco, punk rock, and new wave, but also of many world-renowned musicians.
We can't mention all the excellent home-grown performers in this blog, but here are (in no particular order) five that we love — not only because of their talent, but also because they are quintessential New Yorkers, who have remained true to their hometown:
Neil Diamond. Born in Brooklyn, the singer commemorated his attachment to his native city with the words "Well, I'm New York City born and raised," in the song titled "I am I said" as well as in "Brooklyn Roads."

Lady Gaga. Stefani Germanotta, as she was then known, was born at Lennox Hill Hospital and grew up on NYC's Upper West Side. Her website mentions how, as a child, she used to go to fancy restaurants in the neighborhood and dance around, using her breadsticks as batons. Later, she waitressed at an Upper West Side diner and bought herself a Gucci purse with the money she made at that job.

Billy Joel. The Bronx-born singer paid homage to his native city in his 1980s hit "Uptown Girl" and also has been performing one show a month at Madison Square Garden since 2014!

Barbara Streisand. Born in Brooklyn, the singer and actress sang about NYC in the 1977 song, "New York State of Mind"

Tony Bennett may have left his heart in San Francisco, but he was born in Queens and still lives right here in the city. We can only hope that his 1960s hit "The Good Life" was inspired by New York.
Their Kind of Town
As we said, these are just five performers who have their roots in NYC. But there are many others as well who were not only born here, but also sang about their native city.
For instance:
Barry Manilow was born in Brooklyn and had a song titled "This Is My Town."

(Paul) Simon and (Art) Garfunkel. Both hail from Queens, and while they were still together, they released "A Heart in New York."

Brooklyn-born Jay-Z, and Alicia Keys, born in Manhattan, recorded together "New York," a song that has energy and vibe of their native city.
We can't possibly mention all the talented musicians who hail from New York City, but you can see who they are right here.
We thank them all for their musical contributions to our city and the world!