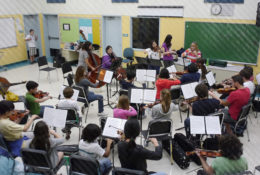 If you read our blog regularly (as we hope you do), you know we love to write about all the compelling benefits of music lessons — whether on brain development or overall health.
Now, you might think that these articles are self-serving — that (no pun intended) we are tooting our own horn because, after all, we are a music school.
Well, let us tell you that what you read about in our blogs is based on facts (real, not alternative), and solid science is behind everything we write.
So with this in mind, let's look at five reasons why music lessons make you healthier.
Let's Count the Ways…
Actually, there are many ways in which music benefits your physical and mental health; these are just top five:
But Wait, There is More…
Music lessons can also improve motor skills, coordination, and even muscle tone — think of all the strength you need to hold an instrument or blow into it!
And did you know that music is beneficial at any age? According to an article in LiveScience, "Musical activity throughout life may serve as a challenging cognitive exercise, making your brain fitter and more capable of accommodating the challenges of aging."
There is even more good news: it doesn't matter which instrument you or your child are learning to play — they are all equally good in providing health benefits.
So our advice (one that your doctor will surely approve of) is this: Eat balanced meals, exercise, and take music lessons!