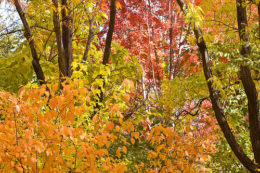 Fall into music – with your NYC guitar school
NYC weather can be extreme sometimes – sizzling hot and humid summers and frigid winters. But what lies in between – fall and spring – is usually very pleasant.
Let's talk about autumn. You don't have to live in New England to enjoy changing colors – New York boasts some beautiful foliage as well, and you can observe how the golden-yellow and red leaves turn the sometimes gray city landscape into a beautiful burst of color. There is crispness in the air and the fragrance of freshly fallen leaves.

All this scenery makes us want to…sing! What is it you are saying – that there are no good autumn songs? We bet to disagree. Here's Hey Joe Guitar's Fall Playlist of our favorite fall tunes:
Warm and fuzzy…
"The Autumn Leaves" by Nat King Cole
"Forever Autumn" by the Moody Blues
"Autumn Changes" by Donna Summer
"When the Leaves Come Falling Down" by Van Morrison
"November Blue" by the Avert Brothers
Those are just some of our favorite autumn tunes – do you have any of your own?
Nature's bounty
"There's peanut dust and corn husks drifting' through the air tonight
The marching' band's warming' up under the football lights
There's tractor-trailers backed up down by the elevator
Train track grain car will roll in later
Get filled up and head on out in the world."
~ "Harvest Time" by Luke Bryan
The fall season conjures up images not only of changing and falling leaves, but also brings to mind shiny chestnuts, acorns, apples, corn, pumpkins, squash, and other seasonal delicacies.
Which brings us to the subject of harvest. Autumn is the traditional harvest time – the fruition of all that had been sown and planted earlier in the year.
And that is another reason to celebrate the fall with season-appropriate songs:
"Harvest Moon" by Neil Young
"Harvest Time" by Luke Bryan
And for a different vibe, listen to this upbeat reggae rendition:
"The Harvest" by Tribal Seeds
"Chill" out with Manhattan music lessons
As the air is getting chiller and nippier, and the days get shorter and darker, you probably like to stay indoors for your music lessons. No problem – our teachers will come to your home or office – not just in Manhattan, but also in Brooklyn and the Riverdale section of the Bronx.
They will not help you shuck ears of corn or carve the pumpkins, but they will definitely help you "grow" and develop your musical skills, so you can "reap" the rewards of what you have sown.