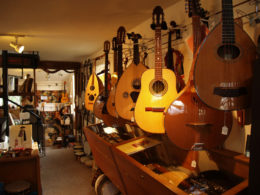 The Key to Choosing Your Instrument, With Manhattan Music School
At Hey Joe Guitar, we love the month of May – and not only because spring is in the air and summer is right around the corner. There is another reason we think May rocks: tomorrow, 5-22, is the National Buy a Musical Instrument Day. Now, you probably think we invent these "holidays" just for the heck of it. Not so! This occasion really does exist and we had absolutely nothing to do with its creation – honest!
It is an "unofficial" holiday (meaning you can't take time off work or school) and its origins are unknown. However, that doesn't mean that this occasion should not be marked; after all, its purpose is to purchase an instrument so that you or a family member can begin to take music lessons. You'll get no argument from us!
Be a savvy consumer
Buying your first musical instrument is a momentous occasion. This means you re ready to embark on a new and exciting adventure. As New Yorkers, we are very lucky because our city has so many great music stores. Just as an example (and this is in no way an endorsement, just information), the historic "Music Row" on 48th Street is lined with many such shops. Whether you are a first-time buyer or you are looking to replace your current instrument, there are several things to consider because an instrument is an important purchase. First of all, determine your budget – can you buy a brand new instrument, or opt for a second-hand one? If you can only afford a second-hand instrument, don't be discouraged –there are plenty of good, quality ones available, so make sure you purchase from a reliable source rather than from the back of a truck in a dark alley. How can you vet your seller? Ask your musician friends, other students, or music teachers for referrals. And always try out the instrument – touch it, handle it, and play it – before parting with your money. If you are taking the instrument home with you right away – a difficult task if you are buying a piano– or have it delivered by the seller or another party, get insurance. Accidents do happen, whether or not you believe in Murphy's Law!
Make a list
As mentioned before, the best way to ensure that you are not buying a lemon is to deal only with reputable sellers who have been recommended to you by people you know and trust. This is all the more crucial when you are buying a second-hand instrument, which comes with its own history. It may look wonderful but looks could be deceiving, so make sure you ask all the right questions, which are pretty much the same you'd ask if you were purchasing a used car. For instance:
Who owned the instrument and how many people played it?
Who tuned it and performed maintenance on it, and how often?
When not in use, where was the instrument stored?
Have there been any major repairs? (Cosmetic flaws due to normal use don't matter, but stay away from an instrument that had been broken or otherwise damaged – unless you are confident it can be repaired).
Check the valves, keys, frets, strings, and all the other pieces to make sure they are in working order. Last but not least, play it! Does it sound right, as this particular instrument should, or does the noise remind you of a pack of banshees?
Even used equipment often carries some sort of limited warranty, so get it in writing. And never, ever, buy an instrument "as is," unless, as stated above, you don't care about its condition because you are certain you (or someone else) can do the necessary repairs.
We are here for you!
Now that you brought your bundle of joy home (or had it delivered), the next step is to book lessons. We recommend that you choose your music school with as much care as you put into selecting your instrument. Questions to ask: which music school has well trained and highly experienced teachers? Answer: we do! And which school offers convenient private lessons right in your Manhattan, Brooklyn or Riverdale home or office? That would be us again! Let's put it this way: over the years, we have given thousands of music lessons to New Yorkers of all ages and proficiency levels, and have never had a single dissatisfied client – human or instrument.
Photo by unknown, available under Creative Commons License