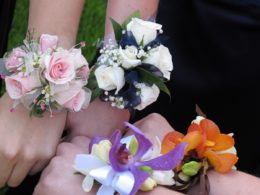 New York Guitar School Presents Music to Dance By
The month of May is coming to an end, and for parents this means school is either already out or soon will be. For high school seniors, it also marks a major event, a rite of passage known as the prom.
Most of us may have forgotten the algebra we learned in high school, but we remember what we wore, who our date was, and what songs we danced to at our prom. These are the memories that last a lifetime.

Sure, there were occasional mishaps and awkward moments, but for the vast majority of seniors the prom night is a special and magical occasion. And it should be, because it symbolizes so much more than just dancing the night away – it is about growing up and moving on to life's new challenges.
This magic moment
Fashioned after the debutante balls that were popular in the 19th century among the titled and wealthy, the word "prom" is derived from "promenade" – the march of elegantly clad guests arriving for the dance.
With ballrooms and stretch limos, today's proms are pretty lavish – certainly a far cry from humble school gymnasiums of yore, which were festively decorated with disco balls and streamers. In fact, in the 1930s and 40s, when high schools first started to organize proms (and mention them in yearbooks), they were simple, strictly chaperoned events. Kids wore nice "Sunday best" clothes, but certainly nothing as extravagant – or expensive – as is customary today.
It is interesting to note how proms have changed over the past decades – the fashions, the songs, and the whole experience.
A night to remember
Is it just us, or did teenagers of the 1940s really look older than the current generation ? In any case, proper manners and etiquette seemed to be of paramount importance back then and continued to spill into the next decade as well, at least according to this trailer . But those of us who saw the movie "Grease" know better: the teens of the 1950s knew how to party and push the limits of propriety!
Speaking of movies, here is a great compilation of prom scenes spanning the decades between the 1980s and the present. And if you are wondering which prom songs have been the most popular in the past decade or so, here's your answer!
Save the last dance for us
We are not sure how good our teachers are on the dance floor (some of them may, in fact, have two left feet), so if you want dancing lessons we suggest you look elsewhere.
However, if you need top-notch music training – on whatever instrument – one of our teachers will swing by your Manhattan, Brooklyn or Riverdale home or office and give you lessons. Even without the dancing, we'll have a ball!
Photo by unknown, available under Creative Commons License