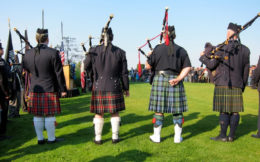 Change the world one note at a time — with Manhattan music lessons
"Where words fail, music speaks." 
– Hans Christian Andersen
The Danish author might have had a somewhat idyllic view of the world (after all, he became famous by writing fairy tales), but he was right on this one: music does speak louder and more eloquently than words.
In fact, music is an excellent, though much underused, diplomatic tool, certainly more effective in taming hostilities and bringing people together than harsh words, threats, or use of force.
Yes, music has the power to create peaceful and friendly dialogue among people of various – and sometimes widely divergent – cultures, beliefs, or political systems.
Joy to the world
How is music used to promote tolerance and goodwill – let's call it "cultural diplomacy?" A recent article in the Washington Post talks about Maya Azucena, a singer from Brooklyn, who is performing in several parts of Russia, a country where anti-U.S. feelings are on the rise.
Azucena, who tours on behalf of the U.S. State Department, reports that audiences from Moscow to the deepest reaches of Siberia were moved by her renditions of rhythm, blues, soul, reggae, and hip, "all quintessentially American with a deeply American message."
"It's apparently still okay to encourage justice and love, freedom and self-expression in Russia, as long as you do it with a song in your heart," the article states.
This is one of many examples of how music can break down the barriers and make a positive difference in uniting people.
Melodies of love
Earlier this year, Peyton Tochterman, a folk singer from the Blue Ridge Mountains of Virginia, was asked by the State Department to travel to Afghanistan to show how "diplomacy can be shaped by the musical arts."
As he relates in his blog, armed with only two hand-made Rockbridge guitars, he and his fellow musicians toured the war-torn country, singing in "most difficult, dangerous and inhospitable places on our planet."
His take on this musical diplomacy? "We are all connected through music and we must continue to celebrate this connection, this language that is so important not just to our own culture, but also to cultures around this fascinating world of ours."
Four years before he performed in Afghanistan and Azucena sang in Russia, the famed New York Philharmonic performed a historical concert in Pyongyang, the capital of isolated North Korea, which has been closed to the outside world since the end of the Korean War in the 1950s.
This event marked the first such visit from the United States to North Korea. The groundbreaking performance aired on Korea's state television and was watched live by an audience of thousands in the concert hall. Millions of people who had been indoctrinated to hate the United States listened with bated breaths as American musicians performed works by Wagner, Dvorak, and even Gershwin.  As Song Sok-hwan, the country's culture minister said at the time, "We hope this will be a big step toward increased bilateral cultural exchange between our two countries."
Reach out and touch someone
Have all these musical performances brought about a significant improvement in relations between the U.S. and other countries? You could argue that all these efforts were in vain: after all, Russia is still blaming America for many of its internal problems, and North Korea remains as hostile toward the United States as it has always been.
That may well be, but keep in mind that lasting and sustainable change doesn't always (if ever) occur overnight and it doesn't always come from the government. There have been many examples in recent years (one of them is the Arab Spring) of change starting at the grassroots level and spreading to the top.
By making an emotional connection with people across the world, music sows the seeds of tolerance and understanding, heals wounds, and inspires change. As singer Bono said, "Music can change the world because it can change people."
Playing for change
Now that you know the powerful impact music can have on people and nations, you might like to learn to play an instrument too.
You are in luck: our Manhattan music lessons will take place in your home or office – we'll teach you any kind of instrument you'd like to learn.
Remember Henry Wadsworth Longfellow's words: "Music is the universal language of mankind." And that is one message that will never be lost in translation!
***