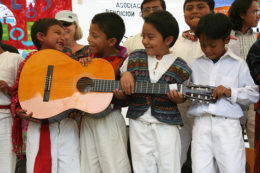 Instrumental harmony that can change the world – NYC | Manhattan music lessons will help keep you in tune
Recently, a heart-warming story about the benefits of music came from an unlikely source: The World Bank. The international financial organization provides loans to developing countries to reduce poverty in various regions of the world. But, it seems, it is no stranger to music either!
An article in the organization's publication describes how music classes are keeping young people in violence-ridden neighborhoods of San Salvador (El Salvador's capital city) off the streets.
The World Bank-supported initiative, which encourages at risk-youth to develop skills in music and the arts, has had a positive impact. "It enabled 75 young Salvadorians to take up music classes and learn to play a musical instrument," the article reports. "These after-school workshops fill the youth's free time, keeping them out of trouble.
Now plans are underway to create a youth symphony orchestra in San Salvador's most precarious areas.
Instrument for change
Similar projects exist or are being organized in Honduras and Guatemala, which, along with El Salvador, are Central America's most violent regions.
In the United States too the importance of music training for disadvantaged children and teens has gained recognition among educators. So-called "music clinics" and other music and arts-related programs and projects are taking place in school districts across America. They all share the same goal as their Central American counterparts: to keep at-risk kids focused on a positive, nurturing, and fun activity as an alternative to street violence that is prevalent in their communities.
Keeping kids out of trouble
Many studies, including one by the National Arts Education Research Center, have demonstrated that violent behavior decreased in kids who participated in music and arts programs.
There are many reasons why music and arts education is effective in keeping potentially violent teens on the straight and narrow. For example, many youngsters turn to crime because of peer pressure, lack of purpose, hopelessness, or deep-seated but unexpressed anger. In all these cases, music education provides a benefit by giving the teens a meaningful purpose, self-confidence, a sense of accomplishment, civic pride, discipline, and a way of expressing – through music – their feelings.
As the 19th century poet Berthold Auerbach so eloquently put it, "Music washes away from the soul the dust of everyday life."
We are sure all the kids who participate in the World Bank's project, as well as those in our country, would agree.
Let's be in tune!
We at Hey Joe Guitar are proud to do our part by offering, though our non-profit CWB Foundation for Children & Music, a variety of music programs to schoolchildren in New York City's economically disadvantaged neighborhoods. We hope to make a positive and meaningful impact on their lives and to help them develop a lifelong passion for music.
However, music education is, needless to say, beneficial to people – kids and adults alike – of all sociocultural backgrounds and conditions. Our school can give you in-home or in-office music lessons in Manhattan, Brooklyn, or Riverdale – whatever instrument strikes your fancy.
With Hey Joe Guitar, you can be part of a (good) gang!