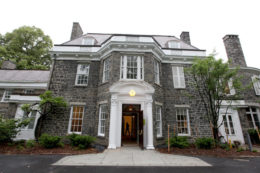 Music lessons in Riverdale? The Bronx is on our itinerary!
"I believe we have the noblest roaring blasts here I have ever known on land; they sing their hoarse song through the big tree-tops with a splendid energy that thrills me and stirs me and uplifts me and makes me want to live always."
Those words, written at the beginning of the 20th century by a quintessential American writer, Mark Twain, described the views of the Hudson, as seen from a chestnut tree on the grounds of his Riverdale, NY home.
From 1901 to 1903 Twain leased Wave Hill, an 1843 estate, which, at that time, was already a desirable piece of real estate, since the young Theodore Roosevelt had lived there previously, during the summers of 1870 and 1871.
Today, Twain's chestnut tree is gone, but Wave Hill is still there in all its splendor: a 28-acre public botanical garden and cultural center, scenically located along the Hudson River in the Bronx's Riverdale section.
A Bronx tale
A residential neighborhood in the Bronx, Riverdale doesn't fit the picture long associated with New York City's northernmost borough – that of widespread urban decay. (Heads-up to everyone who still believes this stereotype: today's Bronx is rising from the rubble, with many areas boasting neat suburban-style houses and lush greenery).
Riverdale is the perfect example of the best the Bronx – and, for that matter, New York City – has to offer. Maybe because it borders the suburban Westchester County, Riverdale has the "laid-back" feel of a bedroom community rather than a hectic urban jungle. It is quiet, green, hilly, and generally softer around the edges than the city to the south.
And even though it is a relatively small section of the Bronx, Riverdale contains many small and pretty neighborhoods and estates – Fieldston, Bronx, Spuyten Duyvil , as well as South and North Riverdale.
Making their home in Riverdale
Mark Twain and Teddy Roosevelt were not the only famous Riverdale residents. The neighborhood also boasts other notables, both past and present:
As a child, John F. Kennedy lived with his family at 5040 Independence Avenue and attended Riverdale Country School from 5th through 7th grade.
Hungarian composer and pianist Bela Bartok lived at 3242 Cambridge Avenue between 1941 and 1943.
The Yankees' baseball star Lou Gehrig lived and died at 5204 Delafield Avenue.
Fiorello LaGuardia, NYC's mayor in the 1930s and 40s, called 5020 Goodridge Avenue "home."
Baseball great Willie Mays still lives at The Whitehall, 3333 Henry Hudson Pkwy.
Eliot Spitzer, former Governor and Attorney General of New York, was born in Riverdale and graduated from the Horace Mann School
These are just some of many prominent Riverdale residents; more are listed here
Riverdale music lessons at your service
Do you live in Riverdale but don't feel like coming to Manhattan for a music lesson? No problem, we understand! Hey Joe Guitar's excellent teachers, who are "fluent" in all kinds instruments and singing styles will come to your home or office.
Contact us and we'll be at your Riverdale doorstep very soon!