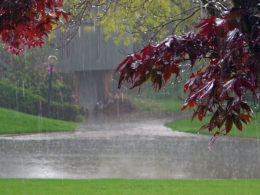 Brooklyn Music Lessons Will Keep You Warm and Dry!
Do rainy days and Mondays always get you down? Welcome to November, which, on average, dumps about 4.5 inches of rain on New York City. When you are wet and cold, you are probably not seeing much beauty in the rain . All you want to do is go indoors, get warm, and stay dry.
And you can always cheer yourself up with the thought that it could be worse – you could be living in Seattle! But if you have an artistic streak, you might appreciate these words by Henry Wadsworth Longfellow: "How beautiful is the rain! After the dust and heat, In the broad and fiery street, In the narrow lane, How beautiful is the rain!" You don't agree? Well then, continue reading.
The sounds of nature
You might find all that H2O irritating while you are getting wet outside, but once you are warm and cozy indoors, you are in a better position to appreciate the unique kind of music that the rain creates. The steady drumbeat pattern of falling raindrops has a calming and soothing effect that can help you think, contemplate, and reflect. You can just as well relax and fall asleep as concentrate on a task like reading or studying. The same effect, by the way, can be achieved by other nature water sounds as well – for instance, the ocean , river , and waterfall .
Rainy day songs
In pop music, there are a number of songs about the rain as well. Interestingly, none of them are somber; rather, they are upbeat and have a good vibe to them. Perhaps the best known one is from the movie "Singing in the Rain." Then there's the Beatles' rendition of "Rain" Eric Clapton's "Let it Rain" , "Raindrops Keep Falling on My Head" by BJ Thomas, Bob Dylan's "A Hard Rain Gonna Fall" , and perhaps the most fittingly named of all, "November Rain" by Guns'n'Roses. Of course, one song you may not want to hear right now is Albert Hammond's 1972 hit "It Never Rains in Southern California." Oh well, you can't be everywhere!
We'll "drop" in on you!
Our Hey Joe Guitar music teachers don't mind a bit of precipitation, so even if it rains, they will still make it to your Manhattan, Brooklyn, or Riverdale home or office for a music lesson. Whatever instrument you play – the guitar, piano, voice, drums, trumpet, trombone, brass, reeds, saxophone, clarinet flute, violin, viola, cello, strings, accordion, ukulele, banjo, recorder, or mandolin – we'll never, um, rain on your parade!