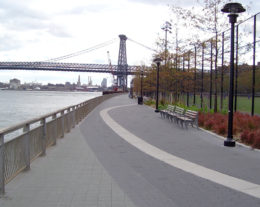 Here's a question for you: which Brooklyn neighborhood could be described as "hip" and "cool?" If you are thinking about Williamsburg, you are right on the mark! It may not have the same long history as its Virginia namesake, but our own Williamsburg has lots to offer: a lively arts and culture scene, great restaurants, and lots of other interesting attractions – all the reasons why this area is one of Brooklyn's most popular and exciting neighborhoods.
It is also, like the rest of Brooklyn (and New York City), ethnically diverse: for instance, it "mixes" the hipster crowd that defines the "new" Brooklyn with Hasidim Jews, and first-generation Italian and Puerto Rican immigrants who have been part of this community for a while. This diversity may explain why Williamsburg boasts so many ethic food stores and restaurants.
A new vibe
Once upon a time, Williamsburg was just a plain neighborhood, with industrial buildings, tenements, and modest attached homes as far as the eye could see. But over the past 15 years or so, it experienced a renaissance of sorts, morphing into one of New York City's most vibrant enclaves. Today, the once neglected waterfront boasts not just new, sleek high-rises but also parks and other green areas, such as the 7-acre East River State Park and Grand Ferry Park.
A feast for eyes and ears
Why is this eclectic neighborhood, which borders Greenpoint to the north; Bedford-Stuyvesant to the south; Ridgewood, Queens to the east; and East River to the west, worth visiting? First of all, it's an easy hop from Manhattan – and even the Manhattanites, who are not easily impressed by anything lying outside their borough, would not be disappointed (but please don't sue us if you are!) A good place to start is with arts and culture, because artists have been essential in bringing creative energy into this neighborhood. Not surprisingly, there are several interesting galleries here, including the Front Room Gallery at 147 Roebling Street; Art 101, 101 Grand Street; Figureworks at 168 North 6th Street; and more. There is also no shortage of live music concerts, for example at Williamsburg's Music Hall , located at 66 North 6th Street. But there are also less traditional venues like Brooklyn Bowl on 61 Wythe Avenue, which is a bowling alley with "electrifying live music." Or Rough Trade at 64 N 9th Street – a record store in front and concert venue in the back. These are just a couple examples among many. And speaking of music, if you live in Williamsburg, you can take advantage of in-home music lessons by some of New York's top teachers. This way, you won't have any reason to ever leave Williamsburg!