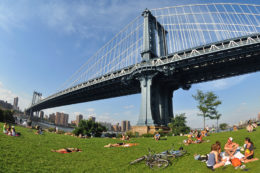 Dumbo, as we all know, is a beloved Disney character whose main characteristic are his big ears. But what we are going to talk about here is another Dumbo – not the cute animal, but its namesake section of Brooklyn. You may be wondering what came first: Dumbo the elephant or Dumbo the neighborhood.
While the Brooklyn area in question had been around longer than the Disney character, which was created in 1941, the neighborhood got its name much later. It stands for "Down Under the Manhattan Bridge Overpass," a term coined by artists who moved there in the 1970s, while this former manufacturing district was a mostly deserted neighborhood. Dumbo a great example of old, multi-ethnic New York City neighborhood that has been, over the years, reshaped and redefined by its developers.
Calling all art lovers!
Bounded by Brooklyn Bridge Park to the north, the Brooklyn Bridge to the west, Brooklyn Heights to the south, and Vinegar Hill to the east, Dumbo is a real 21st century neighborhood: it has the highest concentration of technology firms in New York. A quarter of the city's tech companies are based within a 10-block radius in this relatively small section. But Dumbo is not just about technology – it also boasts a thriving art scene that gives the neighborhood a trendy and edgy vibe. For example, the waterfront Brooklyn Bridge Park offers jazz and classical music concerts, as well as a wide variety of other cultural events. And if you walk around this park, you will encounter funky art in the form of sculptures. But that's not all: On every first Thursday of the month, art lovers have a chance to visit some of Dumbo's galleries and artists' studios, many of which are located on streets paved with century-old cobblestones.
Dumbo is all "ears" – for music!
The arts scene, no matter, how lively, would not be complete without music. In that respect too Dumbo has much to offer. For instance, 68 Jay Street Bar, located in the historic Grand Union Tea Company warehouse, offers not only good food, but also features live bands and other performances. But there is more: moored in Dumbo just under the Brooklyn Bridge is a barge that on most days morphs into a venue for "floating" chamber music concerts. "Bargemusic" holds more than 200 concerts each year, and has been an integral part of the local community for nearly four decades. These and other venues are dedicated to spreading the love of music. Another way to fill your (not Dumbo the elephant's) ears with beautiful sounds is to sign up for in-home music lessons in this very neighborhood. Now you know: this combination of the arts and music scene makes Dumbo one of Brooklyn's most buzz-worthy neighborhoods.