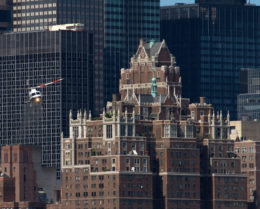 Just because Tudor City is a small NYC neighborhood – just three blocks from north to south and one block east to west – doesn't mean you can't find important services there – like music lessons.
Yes, you can! In fact, we at Hey Joe Guitar offer a variety of music lessons in your Tudor City home or office, just as we do in many other Manhattan neighborhoods – big or small.
Why a residential area consisting of Neo-Gothic skyscrapers was named after England's Tudor dynasty (which had a distinct architectural style of its own) is somewhat of a mystery.
Be it as it may, this East Side residential area, tucked between First and Second Avenues, and 40th and 43rd Streets, has an interesting history.
From beavers to high-rises
When one of the most prominent members of the Tudor dynasty, King Henry VIII was executing his wives over in England in the 1500's, Manhattan was still a primitive island overran by beavers and other furry creatures.
It may be difficult to believe today, but when explorer Henry Hudson arrived in what is now Manhattan in 1607, he reportedly saw, according to one historic account, "a pleasant shore bordering a strait opening into an illusory ocean beyond…and the presence of fur-bearing animals, whose skins could be bought with trinkets and stuffs of the coarsest kinds."
Fast forward to the 19th century. By mid-1800s, the farmland that covered much of the East Side, including the present location of Tudor City, had given way to a high-crime neighborhood of shoddy tenements where many poor Irish immigrants lived.
It took a real estate developer named Fred F. French to turn this decrepit area into what he imagined to be an "urban Utopia." By the early 1930s, his dream was realized with the construction of nine high-rise apartment buildings, as well as a hotel (the current-day Hilton, at 304 E 42nd Street) that accommodated 4,500 residents.
A rich music history
Before we tell you where you can find great music haunts in the vicinity of Tudor City, here is a brief overview of the musical history of the Tudor era, which spans the period between 1485 and 1603.
While it is impossible to sum up nearly 120 years in just a few words, music, song and dance scene thrived during that time in England. In the cities, many musicians were sponsored and supported by the Church and the Royal Court. In the rural areas, where mostly poor farmers lived, folk ballads were performed in the villages and even in the fields.
Quite a few instruments were refined and perfected, including early forms of the violin called the viol, as well as the oboe called the hautboy. Keyboard musical instruments, such as the spinet, harpsichord and the virginal, were also popular.
Henry VIII might not have liked his wives very much, but he was reportedly a music aficionado who not only wrote music to the English folk song  "Greensleeves," but also owned 10 trombones, 14 trumpets, five bagpipes, 76 recordes, and 78 flutes.  (It's a good thing his palace walls were thick and, anyway, who would dare complain about the noise, considering his fondness for beheadings).
Party like the Tudors!
Ok, so you may not be able to find many venues nowadays where you can listen to the sounds of the viol, hautboy, spinet, harpsichord and the virginal (though we at Hey Joe Guitar can teach you to play modern-day versions of these instruments).
Still, there are quite a few places just blocks away from Tudor City where you can listen to live music.
For example:
Live jazz, funk and R & B can be heard seven days a week at SOMETHIN' Jazz Club, 212 E. 52nd Street, between Second and 3rd Avenue.
Tuesday and Thursday evenings are jazz nights at McAnn's,

948 First Avenue and 52nd Street.
As you can see, Tudor City might be small, but music venues, as well as music lessons, abound.
***