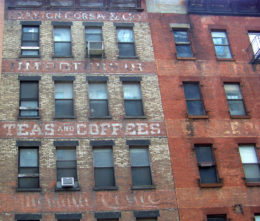 Music lessons in NYC's Tribeca and Soho neighborhoods are there for the asking – so ask us!
Journalist and commentator Alistair Cooke once said that "New York is the biggest collection of villages in the world."
He wasn't wrong. Two of those "villages" are Tribeca and Soho in Lower Manhattan, which have a distinct ambiance of their own.
They are also prime examples of once-shoddy Manhattan neighborhoods that underwent a truly spectacular revival in the past 40 years, becoming two of NYC's most upscale areas.
Tribeca (acronym for "Triangle below Canal Street") stretches from Canal Street south to Vesey Street, and from Broadway west to the Hudson River.
Soho (for "South of Houston") lies nearby, bounded by Houston Street on the north, Lafayette and Centre Streets on the east, Canal Street on the south, and West Broadway on the west.
The two neighborhoods share not only the location and a similar history, but also an impressive shabby-to-chic transformation: gritty industrial facilities that once dominated the local landscape have morphed into expensive real estate that ranks as the city's priciest.
The fabric of NYC's life
In the 18th century, residential homes were built in this area, but they were later demolished to make place for factories and warehouses.
That's because in the 19th and first half of the 20th centuries, this area became a bustling center of textile industry. However, when these manufacturers and traders began to leave, the neighborhood had turned into a wasteland. Its main food market at that time was described by the New York Times as a "dirty, degraded little rat hole" – not exactly a magnet for well-heeled New Yorkers.
However, in the 1960s, that barren area started to experience a renaissance of sorts. Artists and musicians looking for cheap digs began to notice the potential of the large, empty spaces in the former warehouses. What also attracted their attention was the cast-iron architecture on many of the abandoned buildings. Due to its low cost, this material was used on the exterior facades primarily during the Industrial Revolution (1750 to 1850), before being replaced by steel as a construction material of choice. To this day, Soho has the most cast-iron buildings in the world, which makes this neighborhood a historic landmark.
A lofty idea
The rents in the unkempt neighborhood were low  – after all, who in their right mind would want to live in a "dirty, degraded little rat hole?" Only poor or alternative artists who didn't care much about material comforts didn't mind making their homes here.
And that's what happened: the bohemians started to move into abandoned lofts, transforming the bleakly industrial factories and warehouses into beautiful living and work spaces.
The neighborhood started to boom. The prices of Tribeca and Soho lofts – and real estate in general – skyrocketed to the point that Forbes Magazine listed these two neighborhoods among the "most expensive zip codes" in the United States.
Aren't you sorry you didn't buy a Tribeca or Soho property when these areas were still affordable "diamonds in the rough?"
Living it up in lower Manhattan
You may not be able to afford a multi-million-dollar price tag for Tribeca or Soho digs, and you may never become a neighbor of Robert DeNiro, Beyoncé or Jay-Z (all of whom live in that area), but that doesn't mean that you shouldn't explore these neighborhoods' lively arts and music scene.
As befitting a neighborhood that was once (and still remains) a heaven for all sorts of artists and other creative types, it is brimming with art galleries, trendy restaurants, bars, and shops.
And what about "hot" music venues?"
There is certainly no shortage of those. For example:
Mercury Lounge at 217 East Houston Street and Bowery Ballroom, 6 Delancey Street, host a variety of live concerts.
We at Hey Joe Guitar love Tribeca and Soho's artistic vibe, which is why we are happy to come to your home or office – or a loft! -anywhere in those neighborhoods (as well as other parts of Manhattan) and teach you to play an instrument of your choice.
***